CBSE schools at Chennai forcing parents to pay School fees During Lockdown
Gokul Saravanan (Author)
Published Date :

Mar 30, 2020 05:30 IST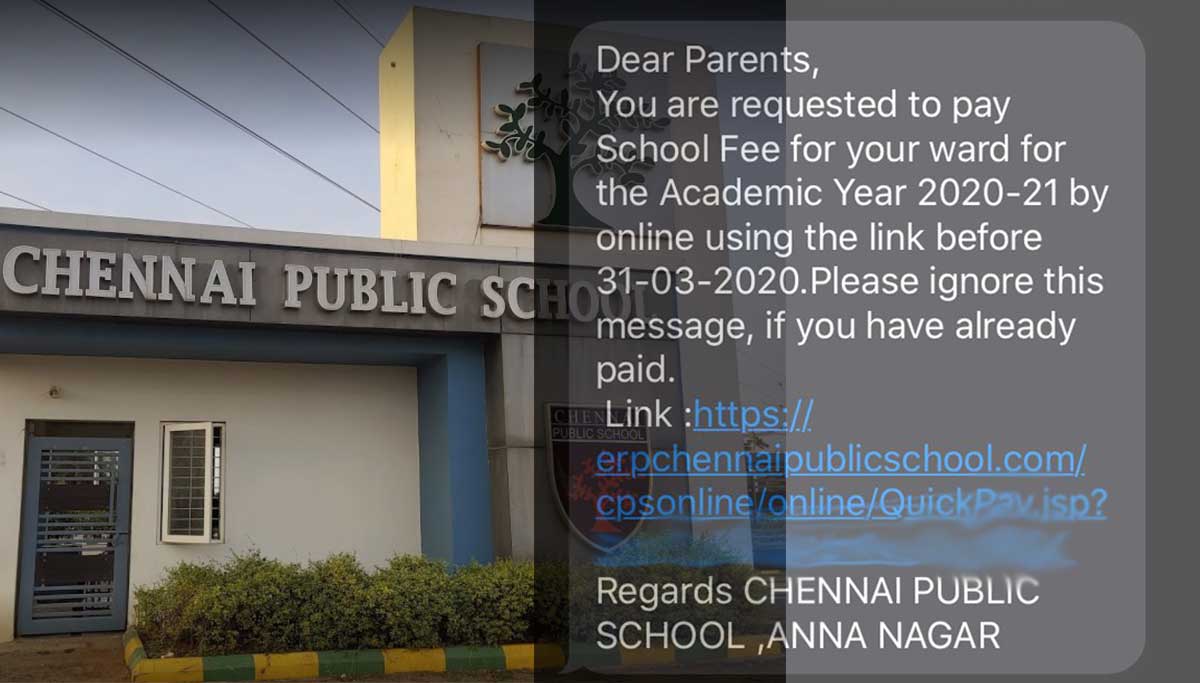 CBSE Schools at Chennai Forcing Parents to Pay School Fees During Lockdown. Is the Government of Tamil Nadu Aware of It?
Chennai: The governments are asking the schools and other institutions to stay calm and halt all the academic actions until the nation steps out from the grip of Coronavirus. But, a private CBSE school at Chennai has alleged to be forcing the parents to pay tuition fees at the end of this March.
The country is already at stake in life or death. Except for the necessaries, all the industries and services have been shut by the government of India to prevent the people of India from reaching a larger exposure to the pandemic.
The government has enforced a 21 days lockdown and relief measures for the next three months in the worth of 1.7 lakh crores. The RBI has imposed a moratorium on all term loan EMIs. Educational institutions were ordered to close and advised to suspend all the exams. As a step forward, the Tamil Nadu Government has declared all pass for classes 1 to 9. It also postponed other standard exams to April 15. These preventive actions of the Indian government have bothered the regular life of almost every Indian citizen.
While the situation seems clearly visible for everyone, some schools at Chennai has sent a request (but looks like an order) to the parents of the kids to pay the tuition fees for the academic year 2020-21 before March 31.
Thus the SMS has left most of the parents in an utter shock. While there is no idea when the emergency situation leaves the country and when the academics will start, the schools have already begun their yearly hunt for money. However, the above URL seemed to have taken down.
Recently on March 28, the Karnataka Government has acted to a similar situation in the state. Karnataka government has ordered the schools in the state to not start any admission process for the academic year 2020-21 until further notice. The government responded to the complaints given by the parents who were being forced to pay school fees before March 31. The government also warned the schools that the management will be punished under the Epidemic Disease Act 1897 upon any violations of the directive.
Following the Karnataka government, the Maharashtra government also requested the schools not to start any admission process and collect fees until the lockdown is over. This action of the Maharastra government is a result of a letter written by the Mangal Prabhat Lodha, BJP chief of Mumbai, highlighting the matter of schools forcing parents to pay deposits within the end of this March.