Students of Bharathiar University at Covai Protest Against CAA
Sivaranjani Soundararaj (Author)
Published Date :

Dec 18, 2019 17:29 IST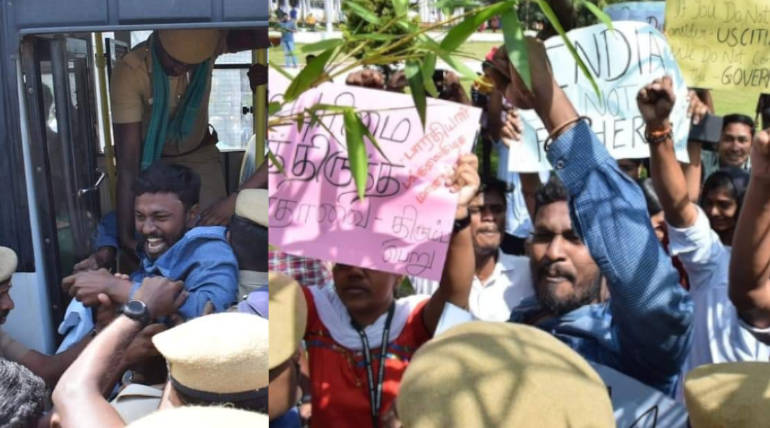 Covai Students Protests against the Citizenship Amendment Act: Students in states including Delhi, Uttar Pradesh, West Bengal, and Assam are actively engaged in a protest against the Citizenship Amendment Act. Violence is unleashed on struggling students.
Like North India, many college students in Chennai, Coimbatore, Trichy, and parts of Tamilnadu are protesting against the Citizenship Amendment Act and also against the attack on students of Jamia Millia Islamia University.
The 36th graduation ceremony of Bharathiar University, Coimbatore, is held today. Students were protesting on the campus as Governor Banwarilal Purohit was to attend the function. The protest staged by the students against the CAA issue burning around the country.
Students chanted slogans demanding the withdrawal of the Citizenship Amendment law and condemned the police attack on protesting students in Delhi. Police arrested the 17, and out of 17, 11 were girls who indulged in protest. Police took them to the Thondamuthur police station. Protester Selvam, a student from Bharathiar University, stated that we tried to stop the governor's vehicle on the campus road, but the police detained us before that. Several other students from other colleges who attended the convocation joined the protest on the roads of the Governor's passing vehicle.
Similarly, around 300 students from PSG College of Arts and Science, Coimbatore, are protesting a sit-in against the CAA. The students of PSG cleared that they demonstrated awareness about the Citizenship Amendment Act by staging a sit-in protest and condemned the attack of police on the students of Jamia Millia Islamia and Aligarh Muslim University.
More than 200 students gathered and staged protests at the Madras University campus on Marina beach. Residents voiced their protest that the Citizenship Amendment Act would promote secessionism.
Right after the Presidential approval of the Citizenship Amendment Act in India, protests erupted in the Northeastern states like Assam and Meghalaya. Subsequently, the protests are now spreading in Tamil Nadu, including Kerala and West Bengal. According to the Citizenship Act, people living in Assam and surrounding states can claim to be illegal immigrants. This law has the effect of disrupting the livelihood of minorities living in Sri Lanka for over a century, including Sri Lankan Tamils.
Several lawyers, students, and political organizations around the country were engaged in protests to repeal the citizenship amendment act by staging theirs condemns against police and the constitution from Wednesday.