Sylendra Babu: Sylendra Babu Is Appointed As A New DGP Of Tamil Nadu
Sophia Loren (Author)
Published Date :

Jun 29, 2021 21:35 IST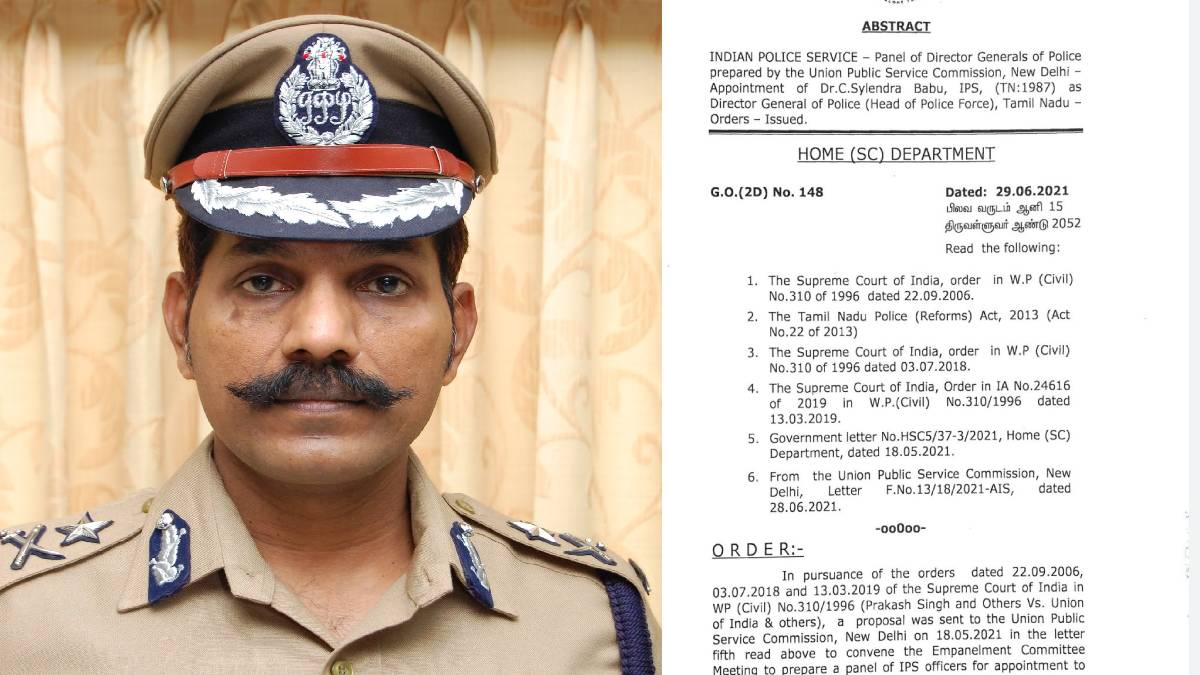 Sylendra Babu has been appointed as the new DGP of Tamil Nadu. The Government of Tamil Nadu has officially issued an order in this regard.
Based on the list of three persons sent by the Central Personnel Selection Board, the Government of Tamil Nadu has announced the appointment of Sylendra Babu as the new Law and Order DGP. Current law and order DGP Tripathi is retiring tomorrow. Thus, the Government of Tamil Nadu has sent the list of 7 eligible DGPs to the UPSC for review.
Chief Secretary of Tamil Nadu Iraianbu, Home Secretary SK Prabhakar and current Law and Order DGP Tripathi travelled to Delhi to participate in a consultative meeting with the UPSC on who should be selected as the DGP.
The list had the names of Sylendra Babu, Sanjay Arora and Karan Sinha was sent to the government. Only Sylendra Babu and Karan Sinha were included in the final list. In this situation, Sylendra Babu IPS have been appointed as the new DGP of Tamil Nadu. The Government of Tamil Nadu has officially announced the appointment.
It has been reported that Sylendra Babu, a 1987 batch IPS officer, will take over as the new law and order DGP tomorrow at 12 noon. He is currently the DGP of Railways. He has served in various capacities in the police.
Sylendra Babu IPS is known as an honest police officer who has not faced much criticism in Tamil Nadu. He is a constant motivator of various things that inspire students. Chief Minister Stalin chose him as DGP because he was very experienced in the field of law and order.
Sylendra Babu, a native of the Kanyakumari district, was selected as an IPS officer in 1987. When he was the head of the prison department, he came up with various schemes to rehabilitate prisoners. He recommended the release of more than 700 prisoners who had been imprisoned on probation. Sylendra Babu has won various medals, including the President's Medal, the Prime Minister's Medal for Life Saving and the Chief Minister's Medal for Heroic Deeds.
It is noteworthy that Sylendra Babu has served as the Inspector of Police in Cuddalore and Dindigul districts and has been the Deputy Commissioner in Chennai Adyar. Sylendra Babu had captured the hearts of many youngsters with his Speech and social activities.
Even during his busy schedule, he used to visit colleges to give speeches for the upcoming generation. His fan base is high among the youngsters. He has been invited as chief guest on many occasions to deliver a purposeful thought to the youngsters.