Tamil Nadu Displayed Three Tableaux On 73rd Republic Day 2022
Thangaraja Palaniappan (Author)
Published Date :

Jan 27, 2022 10:40 IST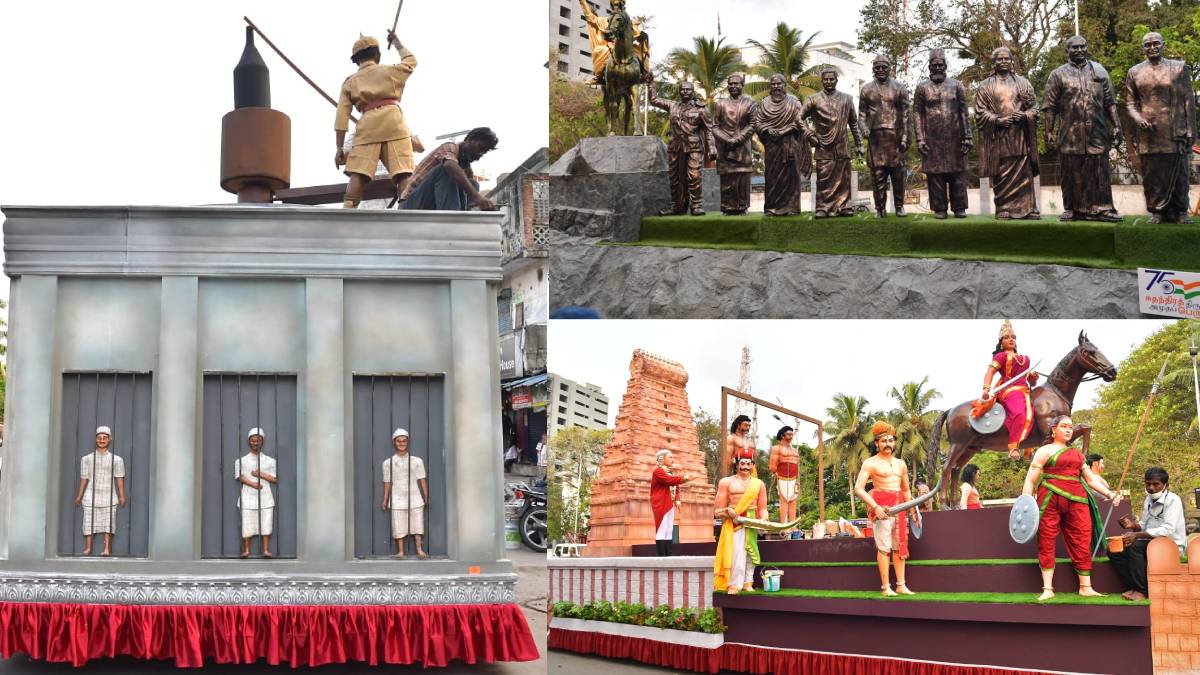 Three decorative vehicles rejected on the occasion of Republic Day in Delhi participated in the Republic Day parade in Tamil Nadu. India celebrated its 73rd Republic Day yesterday. Governor RN Ravi, in turn, hoisted the national flag for the first time at the Chennai Marina Kamaraj Road and initiated the parade.
A huge controversy erupted when the Central government rejected the tableaus of Tamil Nadu for the Republic Day Parade 2022. Tamil Nadu Chief Minister Stalin announced that the Rejected tableaus would be projected in the Tamil Nadu Republic day parade. As said, the tableaus took place in yesterday's Republic Day Parade.
The Tableaux carried portrayals of Queen Velu Nachiyar, her soldier, Kuyili, Marudhu Pandiyar, Veerapandiya Kattanomman, Subramania Bharathi, VO Chidambar, Periyar, Kamarajar, Pasumpon Muthuramalingam, Rettai Malai Srinivasan, and several prominent freedom fighters from Tamilnadu.
The first Tableau presented the speciality of Maruthu Pandiyar, who fought valiantly against the British during the 1806 Soldier Revolution at Vellore Fort and Veeramangai Velu Nachiyar, who recaptured Sivagangai, and Kuyili, a warrior who sacrificed her life by destroying whites.
This Tableau also included Veerapandiya Kattabomman, a freedom fighter who was the first to bravely accept the gallows and fight against British rule. This decorative vehicle will be on public display in Madurai.
The second tableaux carried the portraits of Mahakavi Bharathiar, VO Chidambar, Subramania Siva and Salem Vijayaragavachari. It will be on public display in Coimbatore near V.O.C Park.
The third vehicle carried the portraits of Veteran Rajaji, Muthuramalingam Devar, Karmaveerar Kamaraj, Rettaimalai Srinivasan, Veeran Vanchinathan, Deeran Chinnamalai, Kodikatha Tiruppur Kumaran, V.V.S. Iyer, Quaid-e-Millet, JC Kumarappa and Kakkan. Chief Minister MK Stalin has announced that this vehicle will be displayed at the Erode District Collectorate premises.