Tamil Nadu Government Holidays 2021 - Official Announcement
Gokul Saravanan (Author)
Published Date :

Oct 29, 2020 12:24 IST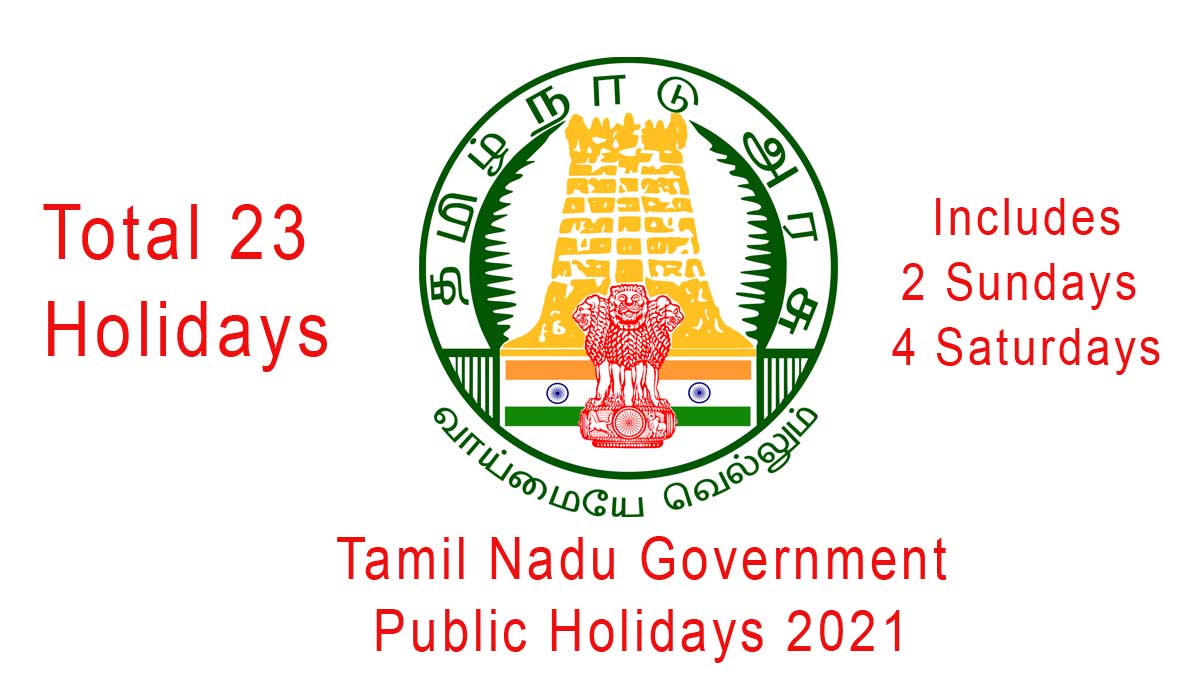 Tamil Nadu Government Holidays 2021 - Official Announcement: Tamil Nadu Government announced - official Government holidays from the Month January 2021 to December 2021 on Tuesday - 27th October 2020.
The holiday list was released under the "Negotiable Instruments Act (1881)" and did not include regular Sundays. A total of 23 days comes in the Government holiday list, which also contains two Sundays.
These Holidays suitable for Government Banks, including commercial banks, Government Colleges, and private concerns that follow government holidays.
Tamil Nadu Government Holidays 2021 List
The following table explains the number of holidays, dates, and days given the Tamil Nadu Government as an official announcement.
January Tamil Nadu Government Holidays 2021
01-January-2021, Friday - English New Year
14-January-2021, Thursday - Pongal
15-January-2021, Friday - Thiruvalluvar Day
16-January-2021, Saturday - Uzhavar Thirunal
26-January-2021, Tuesday - Republic Day
February and March 2021 no government holidays in Tamil Nadu
April Tamil Nadu Government Holidays 2021
01-April-2021, Thursday - Annual Closing of Accounts for Commercial and Co-operative Banks
02-April-2021, Friday - Good Friday
13-April-2021, Tuesday - Telugu New Year
14-April-2021, Wednesday - Tamil New Year and Ambedkar Birthday
25-April-2021, Sunday - Mahaveer Jayanthi
May Tamil Nadu Government Holidays 2021
01-May-2021, Saturday - May Day
14-May-2021, Friday - Ramzan (Idul Fitr)
June 2021 no government holidays in Tamil Nadu
July Tamil Nadu Government Holidays 2021
21-July-2021, Wednesday - Bakrid (Idul Azha)
August Tamil Nadu Government Holidays 2021
15-August-2021, Sunday - Independence Day
20-August-2021, Friday - Muharram
30-August-2021, Friday - Krishna Jayanthi
September Tamil Nadu Government Holidays 2021
10-September-2021, Monday - Vinayaka Chaturthi
October Tamil Nadu Government Holidays 2021
02-October-2021, Saturday - Gandhi Jayanthi
14-October-2021, Thursday - Ayudha Pooja
15-October-2021, Friday - Vijaya Dasami
19-October-2021, Tuesday - Milad Un Nabi
November Tamil Nadu Government Holidays 2021
04-November-2021, Thursday - Deepavali
December Tamil Nadu Government Holidays 2021
25-December-2021, Saturday - Christmas