Thiruvalluvar Statue Insulted in Tanjore: Fuel Rages Among Tamil Community
Gokul Saravanan (Author)
Published Date :

Nov 04, 2019 11:14 IST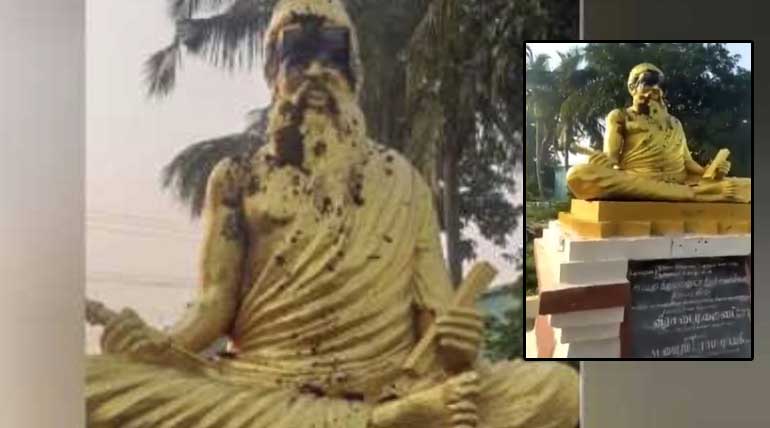 Pillayarpatty, Tanjore: Political controversy over state parties of Tamil Nadu seems to have created a news problem around. A statue of Tamil sage Tiruvalluvar, located in Tanjore, has been allegedly insulted with cow dung on Monday.
The incident, as per the reports, taken place at Pillayarpatti in Tanjur district. It seems the event took place in the last night following the heated political controversy about Tiruvalluvar in the state.
Now the police department is underway with their investigation on this incident. While the political parties of the state are already raging about Thiruvalluvar's dress code, some goons have taken a severe step to insult the famous Tamil sage.
This disrespect made over the Tamil poet has only fueled the controversy. Oppositions for disrespecting Thiruvalluvar by some goons arising across the state and people and politicians are requesting a more in-depth probe in this case.
State parties like DMK and Leftists started to thrash the state wing of BJP in response to BJP's tweet that tweeted a graphic image of Thiruvalluvar wearing a 'Saffron Angle shawl.' The state Dravidian party, DMK, along with Congress and a few, claims that BJP has insulted Tiruvalluvar by portraying him with a Saffron Shalw that indicates Hindu religion. DMK and leftist parties say that saffron has no place in Tamil, and most of the Tamil poets used to wear white cloths.