Unusual Heavy Fog in Chennai: Flights Delayed
Vignesh Subbaian (Author)
Published Date :

Jan 04, 2020 11:42 IST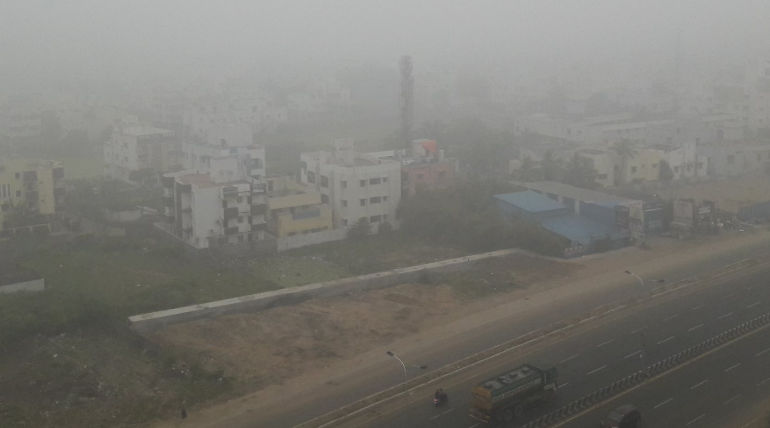 Dense fog diverts and delays many flights in Chennai airport: Due to dense fog, many flights were diverted from Chennai airport. Severe fog covers Chennai's sky for the second day and set to continue for the next two days. CMD also predicts light showers in Chennai and many parts of Tamil Nadu.
The New Year 2020 greets Chennai with heavy fog for the past two days. Today it has become so severe that four flights were diverted from its airport. It is due to extreme fog that resulted in poor visibility. Apart from the diverted four flights, another ten flights were delayed in the Chennai airport this morning. The flights include Indigo, Spice Jet, Vistara, and Air India. The Chennai Airport official twitter handle also confirms the delay and diversion of the flights today.
Meanwhile, the Chennai Metrological Department confirms that there will be light to moderate showers in some parts of Tamil Nadu. In Northern Tamil Nadu and its adjacent Karnataka region, there is an atmospheric circulation. It is the reason for the rains in Pondicherry and some parts of Tamil Nadu. In Chennai, there will be a cloudy sky, with some areas getting slight showers.
Tamil Nadu Weatherman's Twitter handle explains the last two days fog in Chennai. It is not due to pollution, unlike the November fog, but only due to the land getting heated up. It is the reason that the fog clears away as soon as the sun comes lately at around 9 am.
Last year was a good year for Tamil Nadu, with more than enough rain. Experts confirm 14 cms excess rain than usual in Tamil Nadu. Nearly after three years of the drought-like situation after 2015, only 2019 had good showers. It not only cheered the farmers but also will not make the life miserable for the city citizens to go fetching for water with their utensils. Will 2020 repeat 2019, all have to wait and hope for it.