Women Hit by Lorry While Dodging ADMK Flagpole in Coimbatore
Gokul Saravanan (Author)
Published Date :

Nov 12, 2019 15:47 IST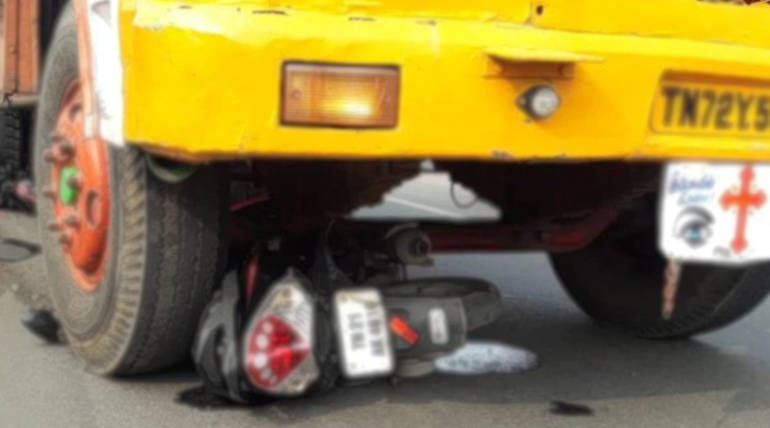 The Court said 'NO' only to banners, not to the Flagpoles:
Chief Minister of the state, Edappadi K Palaniswami, said that he doesn't know the news of Anuraadha's accident in which the flag post of AIADMK was responsible. He also said that the court didn't say anything about flagpoles while answering a question related to the death of Subashree and the accident of Anuradha.
On November 11, 2019, in Coimbatore, a 30-year old Anuradha was grievously injured while trying to prevent a falling AIADMK's flag post on her. Anuradha, who is the sole economic contributor of her family, was injured by a ran over lorry while dodging a falling flagpole.
This incident took place in Avinashi Road highway near Goldwin's on yesterday around 8:30 AM. Anuradha was on her way to work on that day in her commuter. Her regular day to work become typical when she saw a falling flagpole. A person who found to be Swami Bomivardhan, an AIADMK functionary, had hoisted a series of ADMK flagpoles between the roads to advertise her daughter's marriage ceremony.
While Anuradha neared a pole along the way, it suddenly slipped and leaned towards her side of the road, and she applied brakes to dodge it. Unfortunately, her sudden break skidded her vehicle, and she fell on the way where the lorry driving behind her ran over her legs. Civilians gathered around took her to a private hospital where she is now getting treated for her grievous injuries.
Anuradha's injuries seem worrying as a major bone in her one leg had a severe fracture while the nerve in the other leg came off from the attachment. She is currently under the observation of a private hospital at Coimbatore following a lengthy operation.
Anuradha met with an accident which was more similar to the crash of Subhashree, a Chennai based techy who lost her life while dodging a banner and caught under a truck while driving home. The high court also warned the government to stop advertising with banners in public places. However, the court gives conditional bail to the accused involved in the case of Subashree on November 10, 2019.