ACT Fibernet offers Basic Speed from 50 Mbps with 200GB data in Tamil Nadu
Vijayan Sankar (Author)
Published Date :

Sep 26, 2019 22:23 IST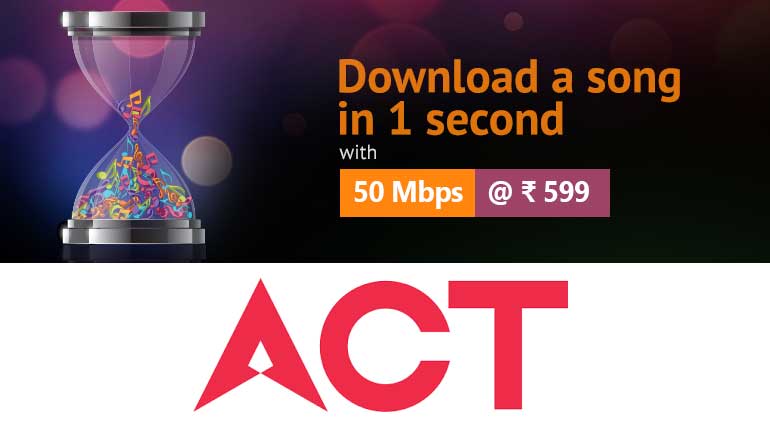 ACT Fibernet increased Basic Speed from 50 Mbps and minimum data from 200GB in Tamil Nadu
Jio Fiber launch by Reliance on 6th September has turned the tables of the broadband net market in India. ACT Fiber which was the primary broadband net provider so far has also joined the bandwagon of increasing essential speed from 50 Mbps and minimum data from 200 GB in Tamil Nadu. For the tech-savvy Bengaluru, it is now offering up to 1000 GB additional data to its customers.
ACT Fibernet plans in Chennai, Coimbatore and Madurai.
ACT Fibernet so far competing only with Airtel had various plans for the retail and SME sectors in Chennai. The minimum tariff of ACT plan is Rs. 599 for retail to provide 50 Mbps speed and 150 GB in Madurai City, 75GB and 20 Mbps speed increased.
Coimbatore, the basic plan starts from Rs. 649 with 40 Mbps speed and 200 GB. It was 20 Mbps speed and 125 GB data plan.
Chennai customers get, the ACT Giga plan is costing Rs. 2999 providing a speed of 1 Gbps and 3000 GB. It is more or less on the same plans in Coimbatore and Madurai also. The table below will give the complete details of all the plans, including that of SMEs.
But, with the launching of Jio Fiber this month the competition which was only with Airtel so far has now expanded to Reliance also. Hence they have increased the speed and GB to give stiff competition to the new Jio Fiber.
ACT's new plans for Indian silicon valley, Bengaluru
Bengaluru is the IT hub of India, ACT today announced a lot of new data plans offering more than 1000 GB and come with a minimum of 25 Mbps speed. The basic plan, which was offering 15 MBPs and 100 GB data, is now revised to 40 Mbps and 200 GB data at the same costs. The new plans will be active once the validity of the current month cycle expires in Bengaluru city only.
Price, speed & data war among the ISPs
The price, speed, and data war among the ISPs or internet service providers like Reliance, Airtel, ACT, and others will only make the internet availability easy, cheap, and widely available to Indians. As like everything else, using it in the right way for knowledge and prosperity remains with the people only.