World's highest operating weather stations installed on Everest
Nisha Gowri (Author)
Published Date :

Jun 14, 2019 22:20 IST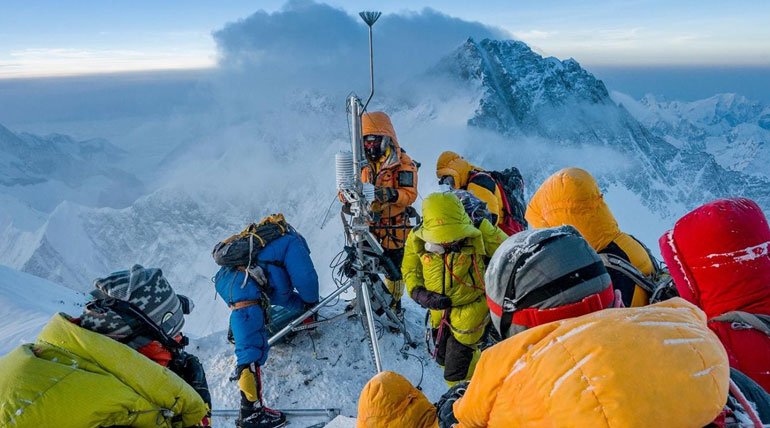 With the purpose of knowing the near real-time information about the mountain conditions, the National Geographic Society has announced the successful installation of the world's highest operating weather stations on Mount Everest. This is of great use to the researchers, climbers and the public. The weather stations at Balcony area (8,430 m) and South Col (7,945 m), as well as three other weather stations, are present on the Mount Everest.
These weather stations will help the communities respond well to the climate risk that threatens the lives and livelihoods of more than 1 billion people in the region.
Fae Jencks, Director, Marketing and Communications at the National Geographic Society, said in a statement on Thursday. There are weather stations in the Balcony area (8,430 m) and South Col (7,945 m) installed in the Everest.
There are other stations at Phortse (3,810 m), Everest Base Camp (5,315 m) and Camp II (6,464 m). Each and every station record data on pressure, relative humidity, barometric pressure, wind speed, and wind direction. So now we get data from these weather stations and also National Geographic and Rolex perpetual plant extreme expedition to Everest and help the communities to respond correctly to the climate risk and save lives and livelihood.
The successful installation will help in monitoring and understanding the climate change as the stations will help continue to monitor the upper reaches of the atmosphere which is critical in tracking and predicting the weather patterns around the globe.
The first among these was the balcony weather station which was installed at an elevation above 8000 and so it will also be the first to sample the stratosphere variations atmospheric boundaries change over time.
Recently the most comprehensive single scientific expectation to the mountain was done by an International team of scientist climbers and storytellers which was led by National Geographic society and Tribhuvan University and supported in partnership with Rolex.
The team also collected highest ever I score sample at 8020 to conduct comprehensive biodiversity service at multiple elevations the highest elevation helicopter based lidar scan. Five areas of science that are very critical to understand are being researched with a team from 8 countries including 17 from Nepal.