Instagram Reels: Does Increasing Views On Instagram Reels Matters?
Sophia Loren (Author)
Published Date :

Jul 30, 2021 17:17 IST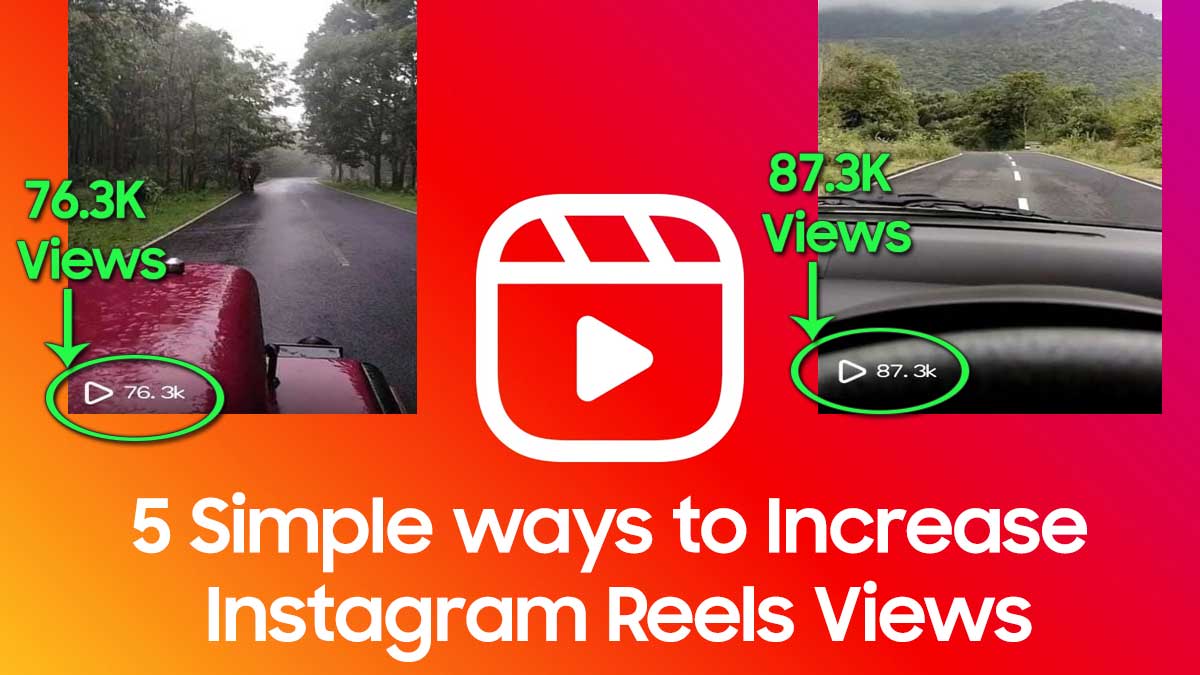 Creating an open profile in any social media is easy with the help of email or phone numbers but connecting with the maximum number of users and reaching them is difficult. Most Instagram users try to increase the number of views for their videos, and here are a few tips to increase the number of views on the reels you post.
It is very important to make sure the content you post is inspiring, informational and entertaining. The content must be fresh that can hold any streams like entertainment, world news, technology news on unboxing or describing features and specs.
Before your post, your videos, nor photos, make sure that your maximum number of followers are online. This will help you fix optimal posting time, which will help you to reach your content to the followers. Share the reels to your closed ones and post them in your story with a good caption.
Never forget that Instagram is a visual platform where the high focus will be on the picture and videos than the writings. When the content you choose is controversial, make sure to use the correct keyword, which will help you in Seach Engine Optimization (SEO).
If you are using the Business account in your Instagram account, you can easily check the insights to check when the followers are active, and it also shows who is watching the content, men or women. Accordingly, you can mould your content and the timing of the reels.
Insights can be below your edit profile option at the right corner, which will show the activity of your followers by time, days, and week. If the ideal time is fixed, make use of the time to post the quality content.
Build a good network between you and your followers, although you are a stranger. It is your duty to make your face familiar to them. There are many ways to interact with followers on Instagram. Instagram stories, Live, and the direct message will help in building the connection between you and your followers.
Instagram Stories:
Ask questions and conduct polls in the story, and make the interaction fun.
Ask me a question that will help your followers to know more about you. At the same time, never make them wait for your response.
Creating polls by asking for suggestions will help you to know what kind of content they are expecting from you.
Make them curious to see your post and make them wait for your update by typing attractive captions and emoticons.
Instagram Direct:
Accept the request in the direct message and reply to the messages.
If the follower is texting unwanted content, reduce the text wisely.
Reply to messages as soon as possible and respond to their suggestions and questions.
Try to build the network. Request them to share your profile with their friends.
Instagram Live:
Go in for an Instagram Live so that your followers can see who you are.
Dress up and be super cool, as the first impression matter a lot.
Communicate with viewers and reply to their comments.
It is important to get prepared for the topic which you are going to discuss in the live.
Be careful with what you talk till the end of Instagram Live.
A positive point on Instagram Live it when you start Instagram Live, the notification will be sent to your followers, and you will be the first in their stories.
These ideas will help you in increasing your rank on Instagram. At the same time, you can build a good relationship with your followers. When the followers are familiar with you, then they will never skip your posts.
Postless content in the initial days. Once you find out what your followers are more expecting, you can post according to it.
It doesn't mean you need to change the stream rather display it in a different view.
Example: If you are a passionate writer, initially, you can post on any theme later after understanding the follower's interest. With the help of insights, you can select the theme on which you need to more concentrate.
Instagram Reels:
While posting Instagram reels, make sure that the content is fresh and original content.
If a song is going is on-trend, don't do the same dance that others did; rather, try something out of the box so that your followers and viewers try your style.
Overthinking and over smartness will spoil the fun that you were about to do. So make it simple and confident.
Your video must make the viewers feel that it would be fun if they try the same.
Caption:
While posting the content, mention the word 'TAG', ' Comment Below', 'Share' and 'Follow for more videos.'
When posting, if you mention the word Tag Your Friend relating to the video content, then the viewers will tag them to their friend, and that person will watch the video, and the chain continues.
When the comment below is mentioned., the reviews and the suggestion will keep coming, and the response will be as expected.
Comments will have questions and appreciation. Make sure you give it to them as possible.
If the topic is controversial, then the comment section will be a chain link. Few users will just come to read the comments.
Follow For More Videos:
When you post on entertainment, news or interesting content, at the end of the video, mention 'Follow For More Videos', which will ping them to follow your page.
While posting Instagram Reels, make the content short and sweet. If the video is crisp, it will reach the viewers. Smart work plays a major role there. Try to deliver your content in 30 seconds else in a minute.
Before posting the video, make your followers get curious about the content that you are going to post. Put the hint in your Instagram stories, create an image for it and post it, mention the time of your posting and make them guess what it would be.
These ideas will help you to have a relationship between yourself and your followers. The activity that is happening between you and your followers will build a good network, and the Instagram algorithm will work so that your posts and videos will be popping up on the viewer's post even if they aren't following you.
In order to become fame personality on Instagram, you first need to be an active user of Instagram. Your long time absence will spoil the work that you have earned. Post your content when you are free so that you can reply to the comments and for the messages. Last but not least make use of the hashtags efficiently. Add six to ten hashtags to your posts.