WHO Unveils its Whatsapp Chatbot to Provide Information About Coronavirus
Vignesh Subbaian (Author)
Published Date :

Mar 21, 2020 11:18 IST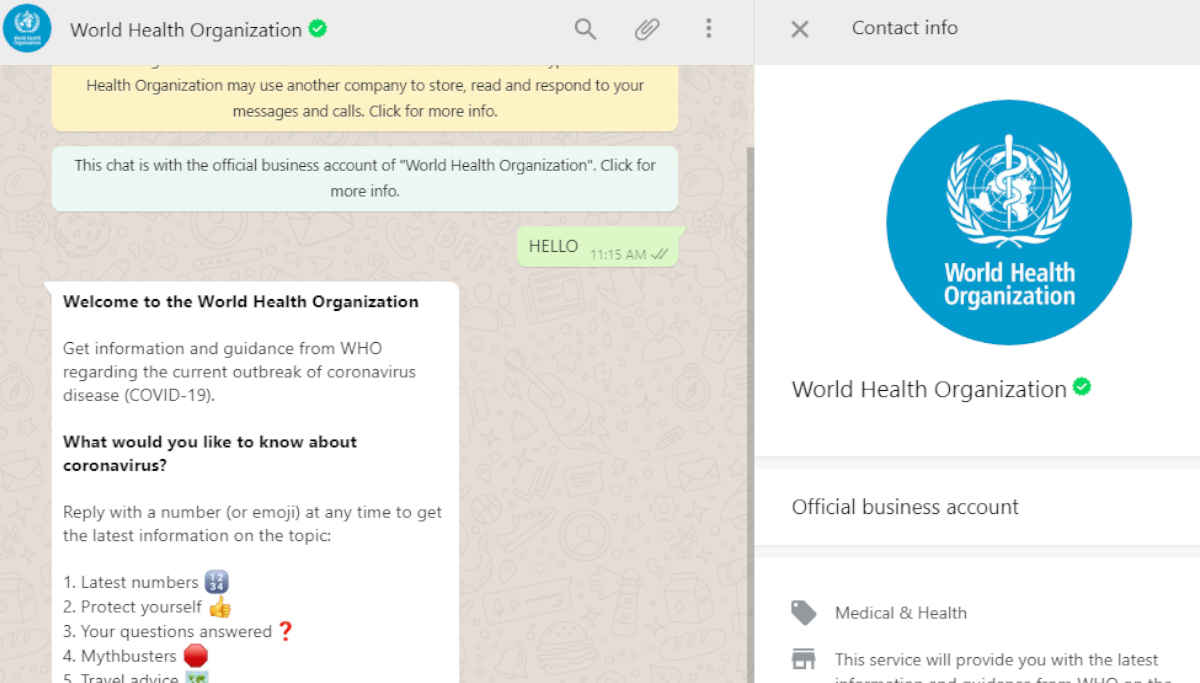 WHO releases WhatsApp number to know the current and exact coronavirus details across the world. It will not only help people in understanding the ways to prevent it but also do not believe false rumors. WHO, after announcing covid19 as a pandemic, has now taken this welcome step after 170 countries are reeling under coronavirus pressure.
In India, yesterday, March 20 had the highest number of additions so far in infected cases of 76 taking the total to 236. But from today morning, another 22 have been added to make the tally to 258 as per the central health ministry reports. Worldwide it has crossed 200,000 and killed nearly 10,000 people.
World Health Organization is part of the UN or the united nations. It is responsible for the world's healthcare representing nearly 200 countries. Now with 90 % of the countries or more than 170 affected by this pandemic, WHO now releases its Whatsapp number as +41 79 893 18 92. Add this to the name list and send a "hi" A reply message from WHO will detail a list of options. All of it includes up to date information regarding the coronavirus including
Number of infected cases worldwide
Number of death due to Covid19
Ways to prevent coronavirus infection
Latest updates and news about coronavirus
All this information will help the people a lot to take this coronavirus seriously. It is also essential to follow all the guidelines of the state and central governments to be safe from coronavirus.
As per an article published recently in India on March 19, India has the facility to test only 8,000 patients in a day. With a population of more than 130 crore people, this testing facility will become a problem now and worse when there is a rapid spread of the virus. But the article says that even with this 8,000 patients testing facility, it only tests 90 samples per day.
Also, the article has pinpointed the government going back on giving Rs. 4 lakhs of compensation to those who are dead by Covid 19 ailments. It also raises two crucial questions with these revelations. Is the government wants to hide the data of the number of coronavirus infected cases? By taking back its promise of Rs. 4 lakhs to the Covid 19 dead, is it expecting a rapid death toll due to Covid 19?