B.C. SPCA Received 17 Husky Puppies As Christmas Gift
Vignesh Subbaian (Author)
Published Date :

Dec 28, 2019 11:24 IST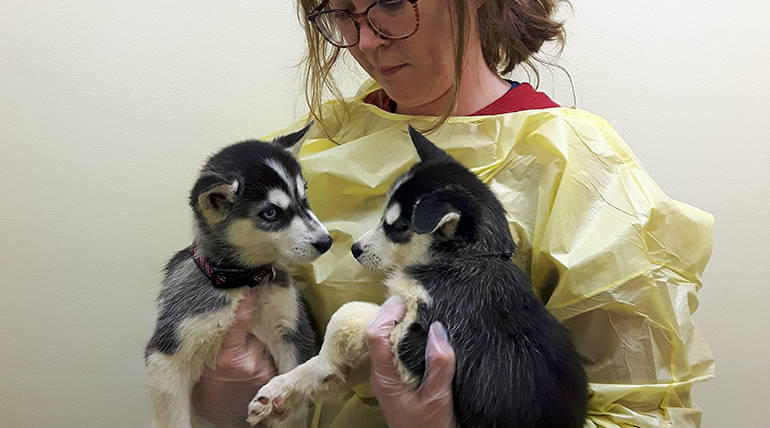 British Columbia's SPCA announced on December 27 that 17 puppies with two adults were surrendered to it as Christmas gifts. It is now seeking the help of the Canadian people to help and adopt the puppies in January 2020.
Anyone in the world cherishes Christmas gifts. The British Columbia's SPCA or Society for the Prevention of Cruelty to Animals received surprise Christmas gifts. They were 17 puppies, which were eight to ten weeks old, along with their mother and thirteen years old senior husky. Now they are in quarantine for cleaning germs and providing all vaccinations. SPCA announced that these pups would be ready for adoption in late January 2020.
Marcie Moriarty, the BC SPCA chief, said that it is a Christmas miracle that these 17 puppies were saved from the severe cold from the interior parts of British Columbia province. He thanked the RCMP or the Royal Canadian Mounted Police officers for rescuing the puppies from cold and handing them on Christmas eve. The exact location of the place where the puppies were surrendered is not disclosed for their owners' protection.
Marcie further said that the BC branch of SPCA is overwhelmed with caring for many animals. He also confirmed that at this point, they are not accepting adoption inquiries. But the holiday period donations are encouraged to meet the caring costs of these puppies and the adults.
Sources in SPCA confirm that it costs more than $ 430 to prepare a puppy for adoption. But these puppies rescued from cold could cost more. Donations can be made online to British Columbia's SPCA to take care of these Christmas miracles.