Blast in Somalia capital: Al Qaeda linked group claims responsibility
Nisha Gowri (Author)
Published Date :

Jun 16, 2019 10:14 IST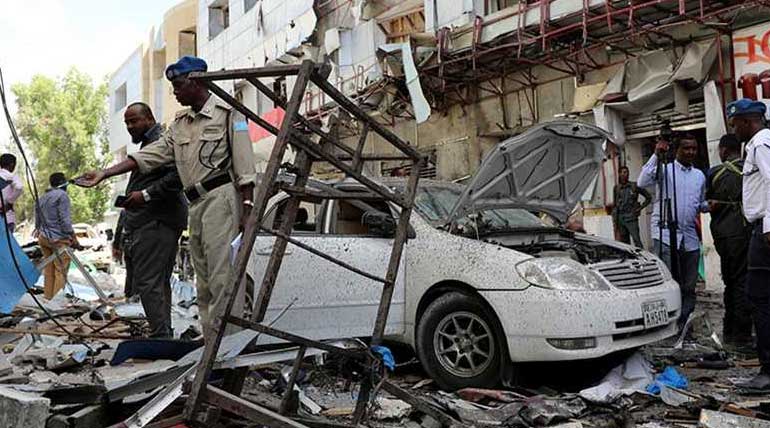 Blast in Somalia capital: In a deadly blast 11 people were killed wounded in Somalia's capital. The country's chief of police has said that the al- Qaida linked extremist group Al-Shabab claimed responsibility. Gen Bashir Abdi Mohamed told reporters that the first car bomb went off near a security checkpoint for the Presidential Palace and was responsible for 9 deaths.
The second car bomb killed the driver accomplice near a checkpoint on the road to the heavily fortified airport. It is also said that the blasts were meant to strike the first line of security checkpoints at the airport and the palace. A number of diplomatic offices are accommodated in the airport and the palace is a frequent al-Shabab target.
Another witness Hussain Muhammad told that he was in a short distance from the blast and he saw several people dead including two women and a passenger and two men some of whom were elderly. This was a very terrible attack by Al - Shabab who were also responsible for the bomb blast in Mogadishu in 2017 which killed more than 500 people and one of the most deadliest attacks since 9/11.
In the past couple of years, The United States of America's military has extensively increased the number of as strikes against al-shabaab the ultimate aim is to limit the territory which the group controls in the central and South Somalia.
According to the report of the United Nation Security Council circulated last month, UN chief Antonio Guterres has noted an increase in the security operations and a large number of air strikes targeting the training bases and assembly points.
This has led to the increased movement of Al Shabaab into the urban centres. Particularly to the areas like Mogadishu, where the forces are less likely to be targeted from the air. The UN chief has said Somalia is making progress towards building a functioning state after three decades of civil war and famine but that insecurity political instability and corruption remain major challenges.