New Zealand Sky turns Orange Because of Bushfire in Australia
Vignesh Subbaian (Author)
Published Date :

Jan 06, 2020 14:05 IST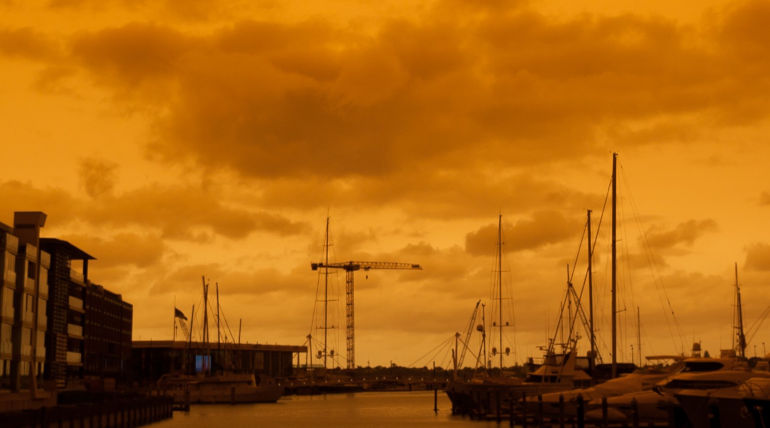 New Zealand people shocked and scared of its orange sky: Auckland People who woke up today, January 6, were shocked to see their sky orange in color. During the day, it was even impossible to carry on daily work with the lights on. The Australian bush fires some 2000 kilometers away have caused this scaring orange color to the New Zealand sky also. Social media is abuzz with the orange sky pictures and sharing of the fear by the New Zealand people now. Even the New Zealand police have asked the citizens to stop calling the emergency call service for it.
New Year was not so good for the Australians. The bush fires intensified to burn down more than 5 million hectares of land and destroyed 1500 homes. Also, it has killed more than 24 people so far and counting with high temperatures of nearly 50 degrees Celsius. Already it has killed more than 30 % or 8,000 koalas in New South Wales. Sydney university ecologists confirm that more than 480 million birds, reptiles, and animals are lost due to the severe bush fires. There are heartbreaking viral videos circulated across the world to showcase the effects of the brutal bush fires in Australia.
The effect of the Australian bush fires has reached New Zealand, which is nearly 2000 kilometers from Australia. It is equal to the distance of Chennai to Delhi or Houston to New York. The citizens were shocked to no extent as they have never seen anything like it before. Numerous people started calling 111 the emergency services, to make even the police at one point to request them to stop calling.
Social media became abuzz, with many saying that they feel unsettled and apocalyptic. Some say it is eerie and scary. Georgette, one of the citizen, said that the Auckland city is almost empty now. The lungs felt more substantial than usual, and the doctor has confirmed that she is wheezing apart from coughing all day. Even the seagulls flying overhead seem to be in distress, and it is, overall, an unbelievable scene.
Many meteorological agencies say that the orange sky is due to particles of various sizes in the atmosphere which scatter light in different ways. On regular days they only scatter blue light, but now with different particles, the blue light is changed to different colors, including red in Australia and orange in Auckland.