A Large Number of Pink Jellyfish Spotted in Philippines Waters Due to Coronavirus
Sivaranjani Soundararaj (Author)
Published Date :

Apr 07, 2020 13:35 IST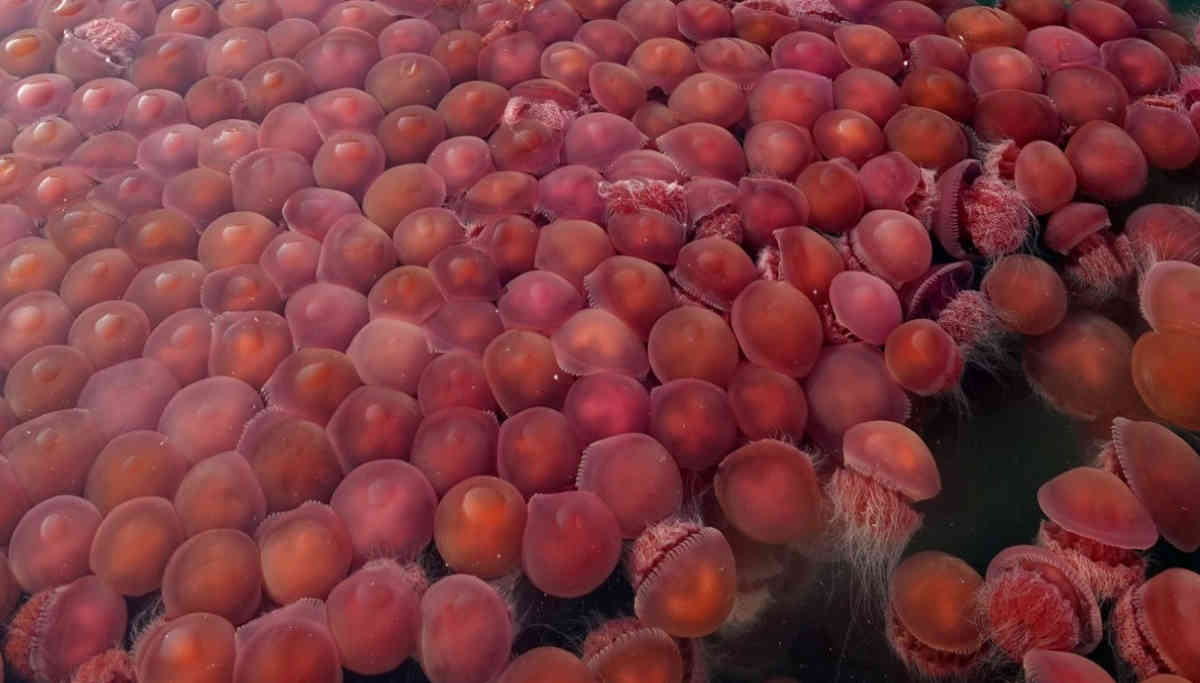 Philippines beaches are spotted with Pink Jellyfish due to Zero humans. An enormous number of Pink Jellyfish came out on the top of the sea in the Philippines after ages regaining the originality of its beauty. The creatures are also known as Tomato Jellyfish or sea tomato.
Usually, beaches in Palawan are crowded with an infinite number of tourists. But now, due to the world pandemic CoVid shutdown, the Philippines is also engrossed in human lockdown in order to control the spread of the contagion.
Biologists predict and disclose that Pink Jellyfishes stay way near the top layer of the sea due to these tourists, and this zero human state on the beach out of CoronaVirus led the jellyfishes to occupy their natural habitat holding an eye-catchy view on the beach surface in groups.
A video of Pink Jellyfishes or Sea Tomato surfing on Corong Corong Beach located in El Nido of Palawan has been shared by Griffith University's Marine Biology Ph.D. student Sheldon Rey Boco on March 23, 2020.
Boco linked it up with a tweet stating that there are no CoVid restrictions for the Jellyfishes, unlike Humans. He also claimed that there are years where the amount of jellyfish in the marine is infinite, and at times the infinity attained zero too due to the marine mutations of living organisms.
Reporting to Newsweek, he added that these thousands of medusae or Jellyfishes are mostly to be present in January or February, but due to the wind, climate, and tidal conditions in Palawan, the medusae appear only in March these days.
Boco claims that "The changes in the geological features such as wind, tide, the climate of the sea or any other water bodies may affect the occurrence or bloom of the medusae."
Generally invading or hunting these organisms when visible on the bay surface might have locked down these Jellyfishes to bloom on the surface. But the CoVid pandemic human shutdown left no chances to hunt the sea tomatoes floating in large numbers, which in turn helps them bloom freely in their natural habitat, told as per the view of Benny Antiporda of Philippines' Department of Environment and Natural Resources.
Dr. Ryan Baring, Marine Biologists, says that the beaches are empty, and Jellyfishes are no longer afraid to swim on the marine surface.