Russia Ukraine: What Is The Situation Of Indian Students In Ukraine?
Vignesh Subbaian (Author)
Published Date :

Feb 25, 2022 15:59 IST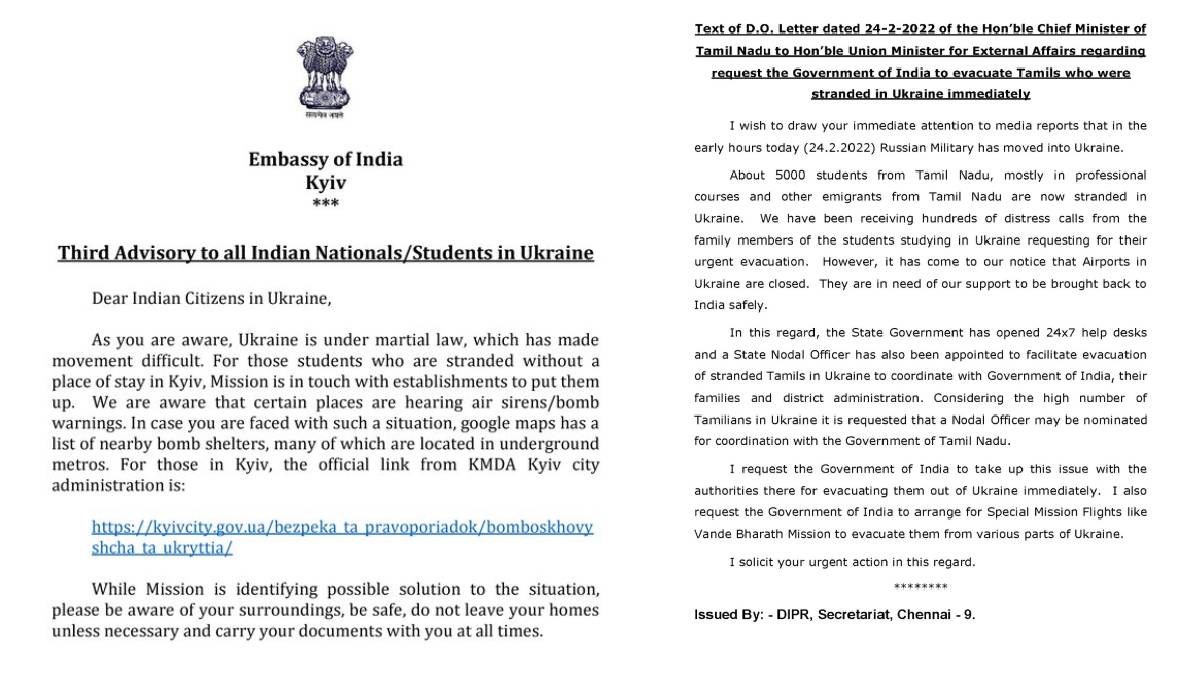 The situation in Russia is getting worse than expected. The Ukrainian capital, Kyiv, was surrounded by Russian troops. Russian forces are likely to launch an airstrike on the Ukrainian city of Lviv. People are advised to go to safe places, including cellars. People are alerted by an air siren through a loudspeaker.
President of Russia Vladimir Putin has told India after the telephonic conversation with Prime Minister Narendra Modi that the Security of Indians will be ensured.
Tamil Nadu Chief Minister Stalin has announced that the government will bear Tamil Nadu students' travel expenses to return home from Ukraine. Stalin wrote a letter to Union Foreign Minister Jaishankar urging him to secure the safety of Tamil Nadu students and civilians left in Ukraine as Russia continues to invade Ukraine.
In this situation, in a statement issued by Chief Minister Stalin, 916 students from Tamil Nadu studying in Ukraine have contacted the Tamil Nadu government. Tamil students and Tamils ​​working there will be released safely.
There are 5,000 Tamils ​​in Ukraine who are students and workers. Liaison officers have been appointed to rescue 5,000 people. "The Government of Tamil Nadu will bear the cost of returning students from Ukraine to Tamil Nadu. " announced the Chief Minister Of Tamil Nade MK Stalin.
CM Stalin has tweeted, "In the light of the serious conflict between Russia and Ukraine, I've requested Hon'ble @DrSJaishankar to intervene immediately to evacuate thousands of students from Tamil Nadu who are stranded in Ukraine and to nominate a nodal officer for better coordination with Govt of TN."