US Flag Will Fly in Mars Very Soon: Trump
Vijayan Sankar (Author)
Published Date :

Jul 06, 2019 11:52 IST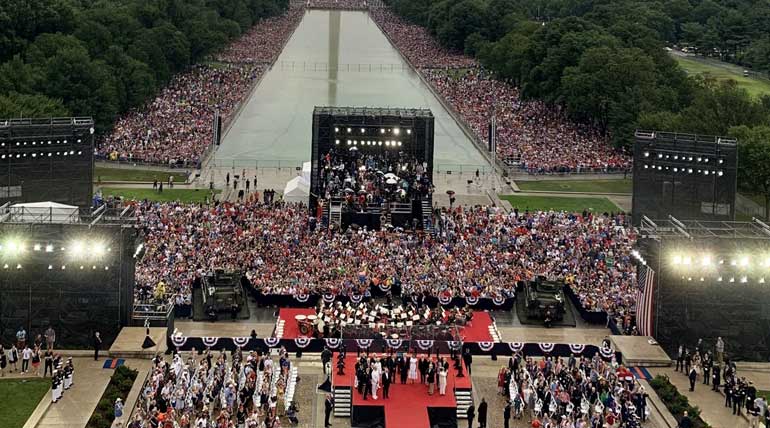 Trump says the US flag will fly in Mars very soon
On 4th July 2019, Trump made a speech before a lackluster crowd on the grounds of Lincoln Memorial. It is after nearly 70 years that a President is addressing a crowd on the declaration of Independence day in 1776. The previous one was in 1951 when Harry Truman made such speech on the grounds of Lincoln Memorial. With elections next year, this act of Trump to make the sacrifice of soldiers an event to make him famous was condemned by the protestors.
Trump announces America's story is the greatest of political journey:
During his speech, yesterday among rains and not so much expected gathering at the National mall said that "America's story is the greatest of political journey". He also reiterated his coming back to power again indirectly by saying that "Very soon the US flag will fly in Mars". Since it is not possible for that till the last months of 2020, it is a clear implication of Trump for his coming back to power again.
Non-working of teleprompter and Trump's speech:
The teleprompter was damaged due to the rains, but Trump continued with his speech on the fourth-day Commemoration on the Lincoln grounds. Later in the White House, he said that, since he knows the speech so well that he did not need a teleprompter to complete it. Trump further called on all Americans to "stay true to our cause".
It was a program that adhered to a lot of patriotic themes and also hailed a mix of history heroes. They were from armed forces, space, civil rights, and all other endeavors of American life. Trump brought in the warplanes and presidential aircraft and conducted their flyovers which were capped by navy blue angels' aerobatics team.
Why were the protestors opposing to Trump's speech on the 4th July?
Protestors were raising slogans with placards of Dump Trump for putting himself on center stage on holiday devoted to unity. They inflated a roly-poly balloon which depicted Trump as an angry, diaper-clad baby. They also distributed small balloons on sticks with Trump printed on it. It has become a culture today for many ruling parties across the world to portray themselves as the face of the military sacrifices to win elections. Trump is only following this to win the next year presidential elections.