KJR Studio Releases the Title Look Of Aalambana Starring Actor Vaibhav
Gokul Saravanan (Author)
Published Date :

Nov 05, 2019 18:38 IST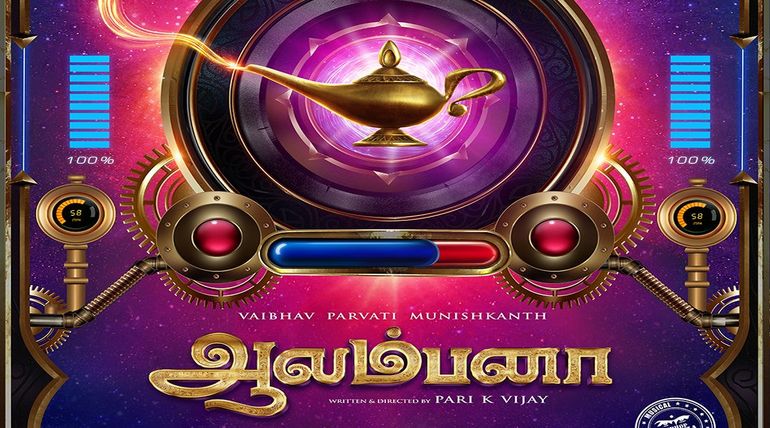 Actor Vaibhav Staring Aalambana movie title poster released:
Aalambana believed to be a magical fantasy dram from the Tamil film industry, holds Vaibhav in the lead role. Pari K Vijay directs the movie under the production house of KJR Studios.
KJR Studios has already mentioned that their tenth project was in its way to hit the silver screens soon. The production house also tweeted the same and asked its followers to stay tuned for a new update. Also, the production house is the one who owns Sivakarthikeyan's yet to be released, movie Hero. The announcement of Aalambana came in while the movie 'Hero' is getting wishes for its teaser that released a few days back.
For Vaibhav, this movie seems like a come back after many cameo roles. Along with Vaibhav, Parvati Nair takes the female lead, and Munishkanth takes a vital task or the Genie role to bring humor in the movie's concept.
Director of this movie Pari K Vijay, who is a debut initially worked as an assistant in Mundasupatti, said this movie is going to be like a no other Genie movie's. He also stated that he was so keen to get the film in a different concept apart from the core concept of Genie and the magical lamp.
Kabir Dunhan Singh has been locked for the antagonist role for Aalambana. Dindungal I Leoni, Anandraj, and Murali Sharma are made an important contribution to this movie.
Aalambana has been planned to unveil to the screens in this summer with the powerful backup of HipHop Tamila. HipHop Tamila Aadhi has composed Aalambana's background and songs. HipHop's background score of Indru Netru Nalai, which was more similar to Aalambana, still rings like a heaven in the ears. Hope the same magical touch of Aadhi will work great for this movie.
#KJRProduction10 titled #Aalambana ✨🔮 is going to be MAGICAL, MUSICAL & MARVELLOUS! This fun project starring @actor_vaibhav & @paro_nair directed by @dir_parikvijay with music by @hiphoptamizha has already got us excited! Can't wait to start shooting with this hyper team! 😁 pic.twitter.com/ZDYwK1vD7b

— KJR Studios (@kjr_studios) November 5, 2019