Nadigar Sangam Election 2019: Actor Karthi says Election is a Futile Work
Chandra Raja Prabu (Author)
Published Date :

Jun 18, 2019 11:16 IST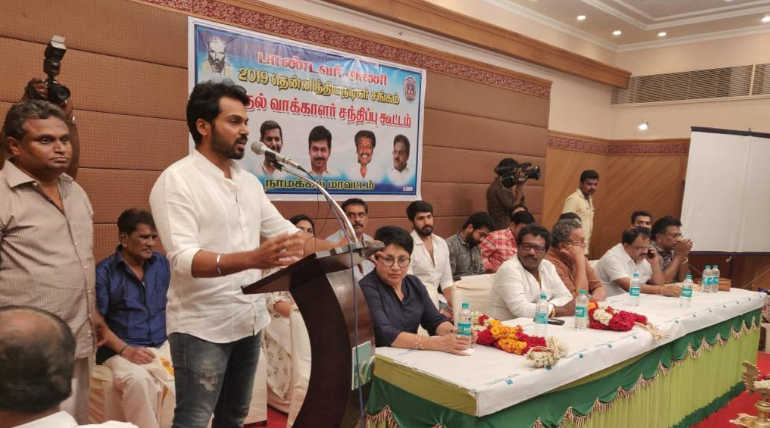 Nadigar Sangam Election 2019
As we know election for Nadigar Sangam is scheduled on June 23, the two teams are fighting it out to win. On one end its Pandavar Ani with Nasser, Vishal, Actor Karthi, Karunas and another team is Swamy Sankaradas team with K Bhagyaraj, Udhaya, Prashanth.
Previously Pandavar ani released its Nadigar Sangam Election 2019 manifesto with highlighting five points. One of them is the Pandavar Ani to take a legal way to sort the financial issues caused during the film release. Another is Iyal Isai Nadaka Mandram in which the artist can do dramas, award functions and also competitions in the building that is constructed.
The agenda also has the details of work for the welfare of both cine artist and theatre artist. Actor Karthi who campaigned in Salem expressed his thoughts to the media after meeting with various artists including drama artist.

We Unite for Nadigar Sangam Welfare
Both the Pandavar ani and Swamy Sankardas team travelling to various parts of Tamilnadu for campaigning. Actor Karthi who contesting for the post of Treasurer mentioned that this election is unnecessary work and these much of time is unnecessarily wasted in travel. Instead of this, we can focus on Nadigar Sangam Building and welfare of the Sangam artist. Instead of this election, we all unit together for finishing the construction work. We unite for Nadigar Sangam welfare, rather than fighting to prove the leadership. The money wasted for these kinds of campaigns and travels can be used for Nadigar Sangam building. He told that he contesting in this Nadigar Sangam Election 2019 to complete the works what he started and for the truth to be proved.
Actor Karthi mentioned that Salem is a hub centre for the theatre performance and he is very eager to visit this traditional artistic place instead of campaigning. All the theatre artists encouraged him for his involvement as a treasurer for past three and half year in the Nadigar Sangam and gave surety to made them won in this election. If this Nadigar Sangam Election 2019 is won by money and manpower instead of love and focus then all the welfare we have done so far will get waste. We should win the election to continue many welfare schemes that are benefiting many artists in various part of Tamilnadu. For that, we should complete the Nadigar Sangam building by clarifying many legal issues.