Bigg Boss 3 Tamil Losliya aka Priyanka Mother Wants Her Daughter Back
Chandra Raja Prabu (Author)
Published Date :

Sep 11, 2019 23:26 IST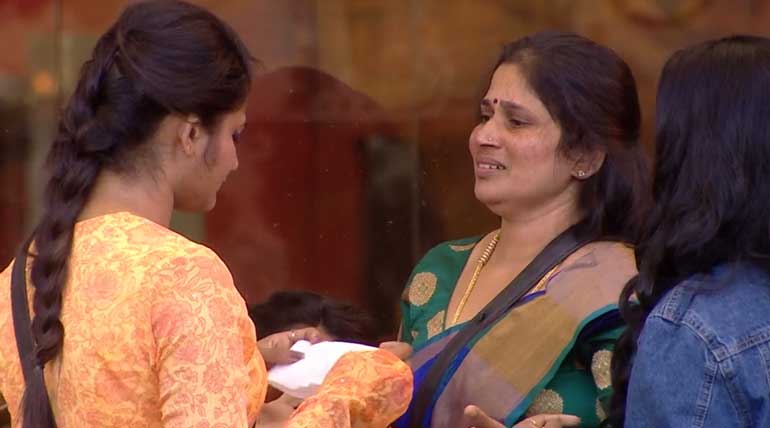 Bigg Boss 3 Tamil season reaching its end time in just three weeks. Every contestant in Bigg boss house are away from their family for the last two months. It's time for Bigg Boss to bring contestants family in Bigg boss house and helps them stress out their feelings. Today, Bigg Boss 3 Tamil Contestant Losliya's Mother and sisters came in and expressed their Love. Losliya's mother also specified her name as Priyanka during the conversation, which many of the audience never know about it.
During the conversation with Bigg Boss 3 Tamil Contestant Losliya, her mother expressed that the whole family was shocked seeing Losliya's behaviour inside Bigg Boss House. Losliya's mother was explaining the situation outside, that they never expected such attitude changes from her. She also asked to Losliya, when everyone plays their game in a typical way, do not let another person use you for his winnings. Losliya's sister also told you were perfect in all activities other than one particular activity which disturbed our whole family.
Losliya's mother expressed her feelings that they want her daughter back, who was before with the stubborn character and never gave chances for unwanted things. She also asked, did you forget us when you were doing such things? Since we are outside this house, you forget us?. Losliya could not control her feelings and asked sorry for everything to her mother.
Losliya mother and sister remained her, be yourself in this Bigg boss house and we did not like you had feelings for others when you came for game. All those conversations from Losliya's mother and her sisters were totally against Love feeling between Losliya and Kavin. It's just an regular family feeling which every parent expects from their kids, and it's acceptable.