Bigg Boss 3 Tamil: Vanitha Vijaykumar Tough Contestant in Bigg Boss Tamil House
Vijayan Sankar (Author)
Published Date :

Jul 12, 2019 12:33 IST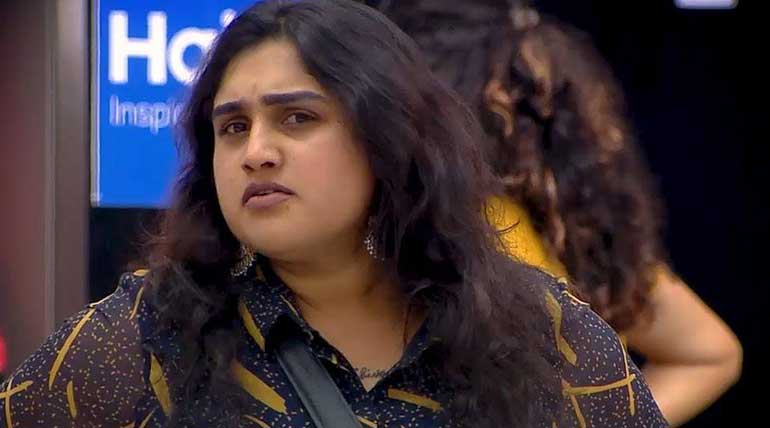 Vanitha - a timid, fearful young girl to a ferocious Bigg Boss 3 Tamil contestant
Vanitha was born with a silver spoon to the celebrated actor parents of Vijayakumar and Manjula. Her cinema career started at a young age pairing with Vijay in Chandralekha movie. Though she acted in many movies, her film career did not take off as expected. Then it was controversies all her adult life. She ran into trouble with her parents, son, and her two husbands. Now she is living with her two daughters by producing movies.
Vanitha, a fighter all the way
Though born to famous parents, the adult life of Vanitha was all but struggle to maintain her individuality. With her film career coming to a standstill in 1999 after two Tamil, one Malayalam and Telugu movie it was marriage life for Vanitha. From her revelation during the Big Boss 3 Tamil telling the secret, she was in love with someone, and the marriage was against her wishes to actor Aakash.
But she had a son with Akash called Sri Hari. He was separated from her when he was ten years old. She was so fond of her son that the separation of him from her by her parents and Aakash made her say some undesirable things in public and do some unwanted things which she regrets even now.
Vanitha's second and third (rumour) marriages
After her divorce with Aakash, she married Anandraj of Hyderabad. She had a daughter Jaynitha in 2009. But this relationship also soared, and she divorced Anandraj. Later she informed to media about her love
Dance Master Robert
which she purposely exposed this fake information to promote her movie " MGR Sivaji Rajini Kamal " acted with Dance Master Robert. Robert explained the true incidents in his latest interview. She is single now with her two daughters Jovika and Jaynitha.
Film career again from 2013
She started to act in one or two movies from 2013 but without much success. She is in the process of producing a Tamil movie from 2015 which till date is not seen the light of the day. Now she is into Bigg Boss 3 Tamil season expecting it will revive her future.
What is the reason Vanitha being in Bigg Boss 3 Tamil?
During the introduction day of Bigg Boss 3 Tamil, Vanitha said she just wanted to be in the Bigg Boss 3 Tamil to be along with Kamal. She said though she knew most of the cine people she has never interacted with Kamal.
And when Kamal gave the winning medal, she said that she along with her daughters being with Kamal is a more significant medal. She also said it was her two daughters who were ardent fans of Bigg Boss wanted her to be in the show. Also, she expressed her wish that being in the Bigg Boss 3 Tamil show could bring back her college-going son to her.
The real Vanitha as said by her during the truth revealed in Bigg Boss 3 Tamil
Though Vanitha is known for her fierce attitude, she said that she was a timid and fearful young girl. Only the circumstances have made her the aggressive and angry Vanitha she is now. Even her activities in the Bigg Boss 3 Tamil only show her as a fierce and ready to fight a woman.
As Big Boss 3 Tamil contestant status
Vanitha Vijaykumar was selected as captain of the first week in Bigg Boss House. It was lucky for Vanitha to take a card and randomly selected as captain. It not only helped her to dominate everyone but also to form her team to intimidate everyone in the show. She was second time lucky of not being nominated in the first week as she was the captain of the previous week.
She is the main reason for the TRP rankings of the Bigg Boss 3 Tamil. She entertains audiences with her unpredictable behaviour of entering into all the issues in the Bigg Boss 3 Tamil house. But unfortunately, she is nominated for elimination this week.