Bigg Boss Tamil 3: Kamal Haasan blast dominant behaviour of Vanitha
Vijayan Sankar (Author)
Published Date :

Jul 13, 2019 19:21 IST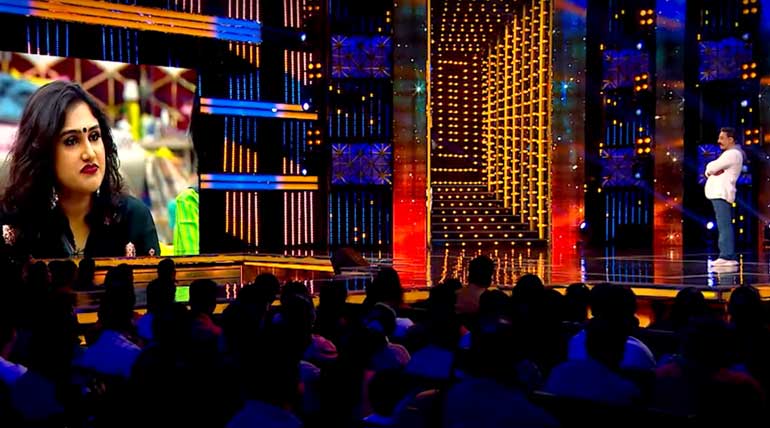 Big Boss Kamal pinpoints the dominant behaviour of Vanitha in the 2nd promo of Bigg Boss Tamil 3
Kamal is set to create some ripples in the Bigg Boss Tamil house in today's evening episode. The 2nd promo is only confirming it. After the first promo where he affirms that it is time for action by Bigg Boss Tamil on the contestants, he warns Vanitha Vijayakumar in the 2nd one. The strict rules of bb3 to be implemented today and the light on the contestant who could be evicted tomorrow will be the highlights of today's episode of Bigg Boss Tamil 3.
Abirami is again the target of Vanitha:
The 2nd promo confirms that the last week captain Abirami will be the target of Vanitha and team next week. Vanitha seems to complain to Kamal that does Abirami want all the attention of Big Boss 3 to be focused on her for the week. To that, Kamal says that it should not be concentrated wholly on one person.
And he further confirms that Vanitha is the one who is seeking all the attention. Also, he advises her to hear others and not be the only one speaking. The promo ends with the astonished look of Vanitha being cornered by Kamal.
Will Kamal reveal the votes for at least one or two of the contestants nominated for elimination?
Last week Saturday, Kamal revealed that Madhumitha is the choice of the Tamil people to be retained. He said she got the maximum votes from them out of the 10 + crore votes cast for Bigg Boss Tamil 3. Everyone has to wait till 9:30 today to see if this week exceeds the last week voting of more than ten crores.
Also, expectations are rife that Kamal like last week could announce the fate of one or two contestants to be on the danger zone or the safe one.
What are the chances of the 5 contestants nominated for eviction?
All five have an equal chance but certain factors are favouring some contestants. Please refer our article Elimination in Bigg Boss Tamil for getting some clear picture of who have more chances of eviction tomorrow.
Today it is Kamal and Kamal all the way to lead the show apart from the exciting clippings of the last 18 days of BBG3. Also, the way the contestants complain against each other to him will be a treat to watch. Do not miss today's episode as it will be revealing the real face of many contestants today.