Bigg Boss Tamil 5 Day 2 Highlights: Is It A Copy of Sandy And Kavin?
Sophia Loren (Author)
Published Date :

Oct 05, 2021 11:55 IST
Bigg Boss season 5 Tamil has begun, and the episodes of fun started with day 1. The Bigg Boss Tamil 5 contestants are very excited to know about each other. The voice of few contestants is coming out as they now feel comfortable in the House.
Also Read: Bigg Boss Tamil 5 Episode 3 Day 2
On day 1, Bigg Boss Tamil 5 contestants Abhinay, Abishek, Akshara, Ciby, Chinnaponnu, Imman, Iykki Beery, Isaivani, Mathumitha, Nadia Chang, Namitha, Niroop, Pavani, Priyanka, Raju, Suruthi, Thamarai and Varun entered the House.
The Bigg Boss Tamil 5 promo of Day 2 was released yesterday morning, which pulled the curiosity to know what made Isaivani so scared. Bigg Boss Tamil Episode 2 was interesting with fun and entertainment. The first week inside the Bigg Boss house is crucial as it is the week to know each other well.
Nadia Chang seemed muted yesterday; maybe she is still trying to gel with people around her. When it comes to men, contestants all are making a comfortable zone around them. Like Sandy, Kavin and Tharshan, even here the male Contestant started to halt in the Bathroom and builts conversation. This kind of similar stuff is making the Bigg Boss episodes more interesting.
Like always, girl contestants are finding a good companion to roam inside the Bigg Boss house. In Bigg Boss 3, Sakshi and Abirahmi were together in the initial days; similarly, in season 2, Yashika Anand and Aishwarya Dutta were friends. The bonding that they all share will become stronger after knowing about each other well when the days pass by.
And one more similarity was the conversation between Priyanka and other male contestants in the presence of Iykki Berry (biography) and Suruthi. Priyanka was inside the House, and the other conservative contestants were outside the House at that time, more or less like dubbing game was happening where Priyanka laters comes and question on that.
Bigg Boss Tamil 5 day 2 was good to watch with a crack of satisfaction because, as always, the Bigg Boss will come to fire only after a week. The leaders were selected yesterday with the acceptance of other contestants. Bigg Boss ordered the Contestant to go and sit in the living area and instructed to choose the leaders for Vessel washing, Bathroom cleaning, Cooking and Housekeeping.
And the contestants were free to select, and Rahu, Namitha, Chinna Ponnu, Pavni and Niroop Nandhakumar came forward. Raju selected Bathroom cleaning, Namitha chose vessel washing, Chinna Ponnu chose cooking, and Pavi opted for housekeeping. After that, the team was selected under each leadership. Niroop gave the opportunity for female leaders and went back to his seat.
Thamarai Selvi was mingling well with the other Bigg Boss 5 contestants as she was completely out of the field. She enjoyed interacting with the other contestants. Pavni Reddy was having a good conversation with her about the serial acting and dubbing. But at the same time, it was a huge shock for the Pavni fans after know that her age is 30 plus.
The most trolled promo of Bigg Boss Tamil Episode 2 was the playful story of Raju and Thamarai Selvi. The viewers found Thamarai Selvi's reaction was too much for the story narrated by Raju. It was clear that Thamarai Selvi was innocent and unfamiliar with few things that were happening in the world. There are more days to go, but Thamarai Selvi started to miss her family on day two itself.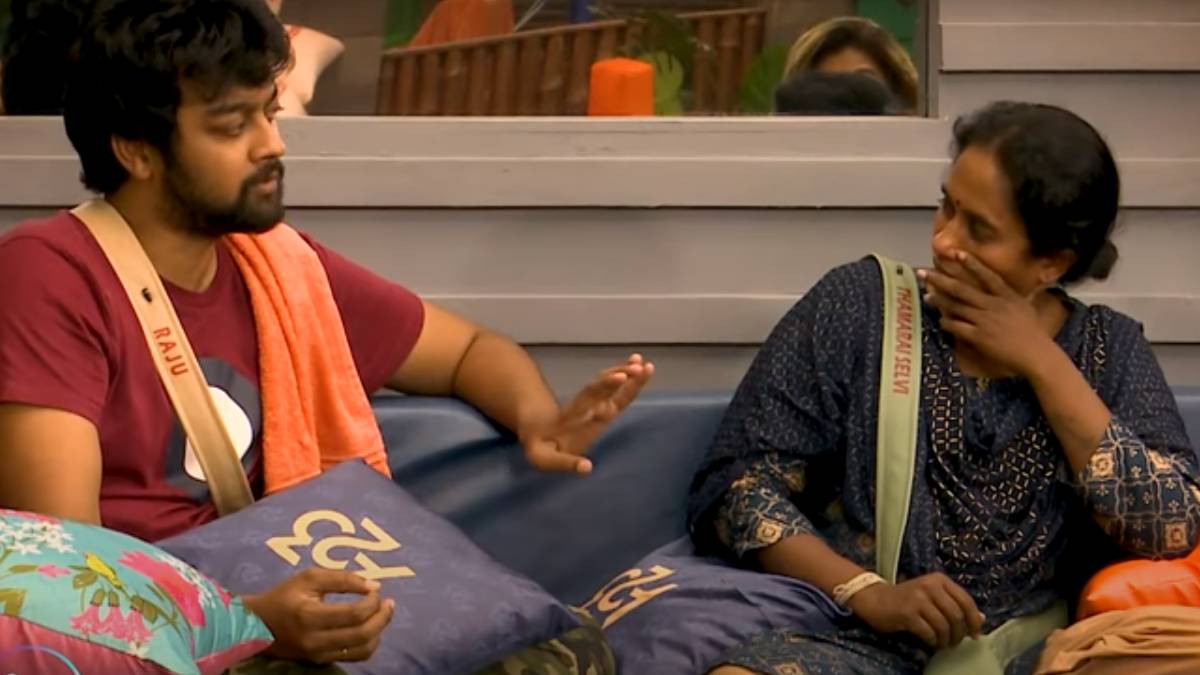 Abhishek Raja, Raju and the other bathroom team members were requesting scented candles and gloves to clean the Bathroom. Comments flowed that the Bathroom was not clean, and waters were splashed and dried, but the conveying was soft. Let us see how long does this soft conversation moves.
The Bigg Boss Tamil full episodes telecasted in Disney Plus Hotstar at 10 PM. Bigg Boss Tamil 5 contestant list and their photos are going viral on social media. And the Bigg Boss promos released that are arousing curiosity to know what actually happened in that particular episode.