Housefull 4 Movie review: The Franchise Lost in Noise
Arjun Krishnan (Author)
Published Date :

Oct 25, 2019 17:54 IST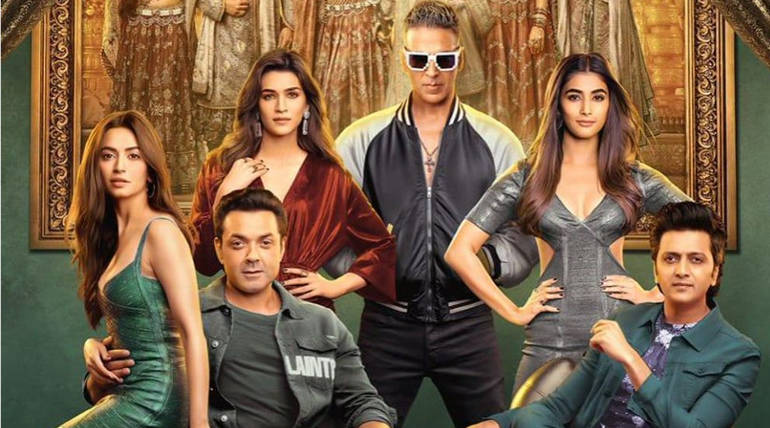 Housefull 4 is Noisefull: The Story one-liner is that a family of 3 brothers is are to marry a set of 3 Sisters. In all of a sudden, one of the brothers realizes that they were all reborn after 600 years. And, they are going to tie hands with the wrong ones in the present. How this incident going to be tackled is the climax. This movie is directed by Farhad Samji and Produced by Sajid Nadiadwala.
Altogether, it seemed to be a funnier movie, but due to the lack of story and screenplay, it doesn't turn out to be a Blockbuster one. The story starts in Sitamargh (Presently known as London), in which the Concrete Wedding Canopy collapses, and all of them were killed without fulfilling their desires.
In their Present life, Akshay Kumar is a Barber, who suffers from Noise Allergy. His exact condition is, he will lose all his recent memories, whenever he hears a noise in higher decibels. One day, all three (Akshay Kumar, Bobby Deol, Ritesh Deshmukh) got into trouble by losing a considerable sum of money (on behalf of the Underworld don), which was kept in their custody. This whole thing started due to the memory loss of Akshay; meanwhile, 3 of them planned to escape from this situation by mesmerizing the three daughters (Kriti Sanon, Pooja Hedge, Kriti Kharbanda) of that fearful Don.
The Music and Songs neither seem to be pleasant nor do any justification for the film. The same old illogical jokes which we cracked in our childhood have been reciprocated on the big screen. The Appealing Cross-references and Timing Comedies from the previous sequels have been missing. The unstable storyline and boring dialogues have turned the movie into worse. Apart from everything, the acting of lead roles brings you some Satisfaction. Overall, it's a one-time watchable film to blast this Diwali with a glimpse of hope.