Kaappaan Movie Official Release Date on Friday September 20th 2019
Vijayan Sankar (Author)
Published Date :

Aug 04, 2019 18:53 IST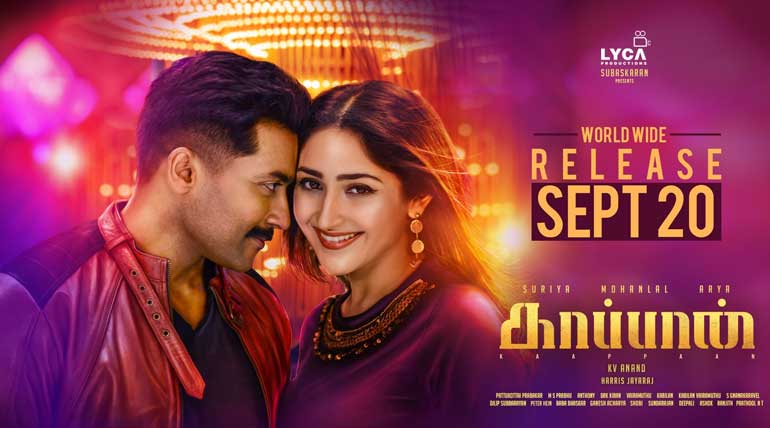 Surya and K V Anand to bring back the magic of 'Ayan' with 'Kaappan' on September 20th
Lyca Productions officially announced the release date of the movie Kaappaan or Suriya on Friday, September 20th 2019. The victory combination of Suriya, KV Anand and Harris Jayaraj is going to be the treat for the quarterly exam holidays for both school and college students. The combination of Suriya, K V Anand, and Harris Jayaraj is set to give another marvellous hit with Kaappaan. Lyca productions have made this sure by the film locations in London, New York, Brazil, Delhi, Hyderabad among others.
K V Anand, the fearless director:
Who could forget the coffee drinking scene of Kadal Desam in 1996? The overview of Chennai in the backdrop, Vineeth, and Abbas drinking hot coffee changed the cinematography of Tamil and Indian movies. The cinematographer of the movie was K V Anand. He won the national award for his first movie as a cinematographer in 1994 for Malayalam film Thenmavin Kombathe. Then it was his movie 'Ayan' with Suriya, which was the biggest box office collection of 2009. Now the same team his coming together to give another Ayan in the form of Kaappaan ten years later.
Suriya's 37th movie Kaappaan:
Suriya's career changed from the Ayan movie with K V Anand. It was an intellectual movie unearthing the illegal diamond business from Chennai to Africa. Surya did justice to the movie by acting as the lead character. He fit in the role of Devaraj precisely to bring into the screen the role of an educated diamond smuggler who loses his friend and becomes an officer of the customs. It was widely acclaimed by critics and collected 80 crores in 2009, which was huge at that time. Now with Kaappan which is his 37th movie, has teamed again with K V Anand and is set to hit the bull's eye again after ten years.
Kaappaan Movie Producer - Lyca Productions:
The new age producer Lyca never hesitates to spend money on their productions. Starting from Kathi in 2014 all of their creations including 2.0, Vada Chennai are grand movies. Now, it is their turn with Suriya and KV Anand with Kaappaan. Early next year they are also set to release AR Murugadoss' Darbar with superstar Rajnikanth.
Actors in Kaappaan Mohanlal, Arya, Sayeesha, Boman Irani, Poorna, and others:
The cast includes the versatile Malayalam superstar Mohanlal as the prime minister and Arya as his son. Also Arya's wife and beautiful Sayeesha plays the PM secretary. The famous character artist in Hindi, Boman Irani is making his Tamil debut, and famous Malayalam actress Poorna also plays a vital part. All these characters are going to revolve around Surya whose character is that of Kathir the farmer and a former SPG commando Subash.
Get ready for another Ayan from Suriya and KV Anand this September for a wonderful holiday treat with Kaappaan.