ads
Kadaisi Vivasayi Trailer is out: A tale of a last organic farmer
Sivaranjani Soundararaj (Author)
Published Date :

Dec 13, 2019 18:53 IST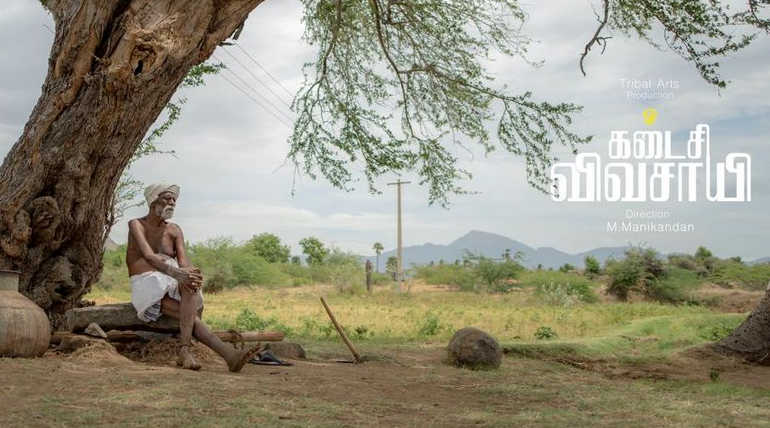 Kadaisi Vivasayi Movie Trailer: Vijay Sethupathi plays a supporting role in the last farmer hero Nallandi: The trailer of the "Kadaisi Vivasayi" starring Vijay Sethupathi rolls on the internet. Kadaisi Vivasayi portrays Makkal Selvan as an idiosyncratic personage co-starring Yogi Babu as a Mahout (elephant keeper) under the banner of Tribal arts.
The story revolves around the grandfather, who is an organic farmer and knows nothing beyond agriculture in the world. Kadaisi Vivasayi checks the survival myth of the old agriculturist in the village.
Kadaisi Vivasayi's movie has been directed by the film creator Manikandam who is already a notable personality in his previous films Kaaka Muttai, Aandavan Kattalai, and Kuttrame Thandanai. Director Manikandan and actor Vijay Sethupathi combo hit the big screen for the second time after Aandavan Kattalai flick.
For fans who wished that Vijay Sethupathi would be playing the farmer lead role in the Kadaisi Vivasayi movie but the trailer revealed that an 85-year-old farmer Nallandi plays the last farmer critical part in the film while Makkal Selvan supports the Kadaisi Vivasayi somehow in the National award-winning director's screenplay.
The multi-starrer film hero Vijay Sethupathi plays the mentally ill character in Manikandan's movie. The agriculture drama of Manikandan took two long years to complete as the film creator himself taken avatar as cinematographer and screenplay writer in the Kadaisi Vivasayi.
Actor Vijay Sethupathi has co-produced Kadaisi Vivasayi joining with Sameer Bharat Ram's Tribal Arts. Vijay Sethupathi has already released orange Mittai and Merkku Thodarchi Malai under this production company.
Everything goes traditional as it is a village drama hoping that Isaignani Ilaiyaraja music beats touch every soul watching Kadaisi Vivasayi film. The trailer of the film has been released seeking attraction all over, and the Director Manikandan is making films with an emphasis from his first flick.