KJR Studios on Sivakarthikeyan Hero Movie Release Delay
Sivaranjani Soundararaj (Author)
Published Date :

Nov 14, 2019 17:36 IST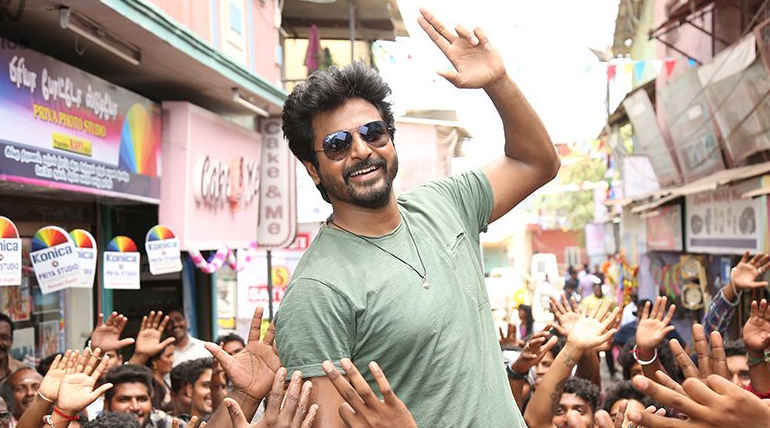 KJR Studios & Sivakarthikeyan's Hero film blocks silver screen on Dec 20.
The myth of creating problems to restrict one's growth is happening consecutively. Likewise, the film industry faces often. Sivakarthikeyan is an upcoming stable actor in Kollywood passing thick and thins to balance the renown. After the blockbuster and emotional success of Namma Veetu Pillai, SK avatars as 'Hero' co-starring Kalyani Priyadarshan and Ivana. KJR Studios bankrolled the Hero movie and released a teaser a few days back.
Sivakarthikeyan a superhero in the next film
Now the production house is in trouble regarding the false statements engrossed by the public in social media about the Hero film's production details. KJR Studios tweets a caution message to hold the fake information twirling. KJR studios also made clear with a court notice informing the general public, that no other production company other than KJR Studios produced Sivakarthikeyan's Hero. The Production company clears that the Madras high court has not stayed the Hero movie, and the film is yet to meet the screen on December 20, 2019.
Many people are involved in the fraudulent acts of using the name, logo, domain name, and trademark of Hero movie unauthorisedly complains the KJR Studios. KJR production house also severely contemplates the unnecessary using of Hero movie name. Regarding the production, Hero movie has no contact with 24 AM studios or TSR films, clears KJR studios. In fact, 24 AM Studios also denied that they were never involved in the Sivakarthikeyan movie titled Hero.
Sivakarthikeyan Hero Movie: First Single made the internet today
KJR Studios cautioned legally with their advocate Karthikei Balan to stop the unnecessary gropings regarding the Hero film. KJR advises people to assist them while coming across such fraudulent activities.
Coming across several malpractices and fake info, Sivakarthikeyan's Hero touts itself in a heroic way irrespective of the problems.
All the hard work we've been putting into #Hero is to bring you a film that is socially responsible & a good entertainer. We've been working day & night to do that. Any claim that this film belongs to anyone else but us & you - the fans; is false! #HeroFromDec20 as per plan! 💪 pic.twitter.com/jMG72UxTOr

— KJR Studios (@kjr_studios) November 14, 2019