Navarasa Web Series: Navarasa Screens On Netflix From Today
Sophia Loren (Author)
Published Date :

Aug 06, 2021 12:12 IST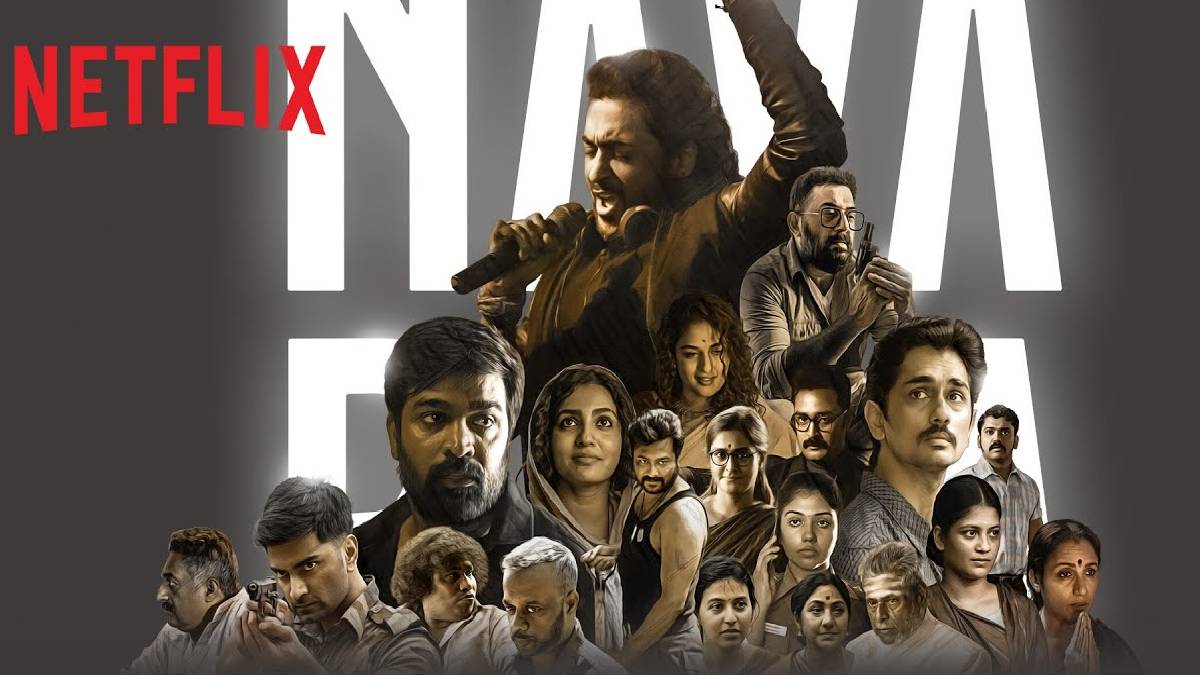 The most awaited web series Navarasa is scheduled to release today. This web series is going to create an impact on the viewers. The expectations and the excitement are increasing, and the wait is near. The first episode will be released at 12.30 pm on Netflix.
Navarasa
is an upcoming Indian Tamil anthology web series created by Mani Ratnam, who collaborated with Jayendra Panchapakesan to produce the series under the banners Madras Talkies and Qube Cinema Technologies.
The cast and crew of this film are huge as the film merges many leady actors, actresses, directors, music composers, and cinematographers. It is a film that holds the nine emotions of human that happens in his life. The movie will make its best, and the directors have perfectly selected the actors to the emotion that they explored.
This web series is written by Pattukottai Prabakar, Selvaa, Madhan Karky, and Someetharan. Each category has different directors, music composers, actors, actresses, and cinematographers. It is not easy to project the nine emotions on screen as it should have a good storyline that perfectly sits on the emotion.
Directors Of Navarasa:
Priyadarshan, Vasanth, Gautham Vasudev Menon, Bejoy Nambiar, Karthik Subbaraj, Sarjun KM, Karthick Naren, and Arvind Swami are the directors of the film.
Actors:
Suriya, Vijay Sethupathi, Ashok Selvan, Naga Shaurya, Satish Kumar, Arvind Swami, Siddarth, Atharvaa, Yogi Babu, Prakash Raj, Gautham Vasudev Menon, Prasanna, Bobby Simha, and Delhi Ganesh.
Actresses:
Ramya Nambeesan, Revathi, Parvathy Thiruvothu, Aditi Balan, Anjali, Shamna Kasim, Riythvika, Rohini, and Prayaga Martin.
Music Composers:
A. R. Rahman, Sundaramurthy KS, Ghibran, Aruldev, Karthik, Ron Ethan Yohann, Govind Vasantha, and Justin Prabhakaran.
Cinematographers:
PC Sreeram, Santosh Sivan, Sudarshan Srinivasan, Sathyan Sooryan, Abinandhan Ramanujam, Shreyaas Krishna, Harshvir Oberai, Sujith Sarang, V. Babu, Viraj Singh.
Nine Emotions:
Navarasa series handles nine emotions, namely anger, compassion, courage, disgust, fear, laughter, love, peace, and wonder.
Episodes:
The nine episodes are Inmai, Roudhram, Edhiri, Guitar Kambi Mele Nindru, Thunintha Pin, Summer of '92, Project Agni, Peace, and Payasam.
Inmai (Fear):
The Director of Inmai(Fear) is Rathindran R. Prasad with the lead roles Siddharth, Parvathy Thiruvothu, Pavel Navageethan, Rajesh Balachandran and Ammu Abhiramiunder the music of Vishal Bhardwaj.
Roudhram (Anger):
Arvind Swami directed Roudhram with the cast Rithvika, Sree Raam, Abhinayashree, Ramesh Thilak, Geetha Kailasam. A. R. Rahman brilliantly handles the music.
Guitar Kambi Mele Nindru (Romance):
Gautham Vasudev Menon directed the emotion of romance Guitar Kambi Mele Nindru (Romance) with the leads Suriya and Prayaga Martin. Karthik has given a mesmerizing song, and Anthony did the editing part of this episode.
Edhiri (compassion):
Bejoy Nambiar directs Edhiri (compassion) with the music of Govind Vasantha. The lead roles are Vijay Sethupathi, Prakash Raj, Revathi, Ashok Selvan.
Thunintha Pin (Valour):
Thunintha Pin (Valour) directed by Sarjun KM, edited by Prasanna GK. Sundaramurthy KS takes over the music with the significant roles of Atharvaa, Anjali, and Kishore.
Project Agni (wonder):
Project Agni (wonder), directed by Karthik Narain, starred by Aravindsamy, Sai Siddharth, Poorna and Prasanna. The music is handled by Ron Ethan Yohann.
Summer of 92 (laughter):
Summer of 92 (laughter) is directed by Priyadarshan with the lead roles comedy king Yogi Babu and Ramya Nambeesan. Malayalam director Priyadarshan directs this category with the music of Rajesh Murugesan.
Payasam (Disgust):
This film is directed by Vasant Sai and acted by Ganesh and Rohini. This episode stars Delhi Ganesh, Rohini, with the young role Aditi Balan.
Peace (Peace):
This category of the film is most expected as Karthik Subbaraj directs this film, and the film Stars Bobby Simha, Gautham Vasudeva Menon with the music of Santhosh Narayanan.
Many thanks to Mani sir and Jayendra sir for #Navarasa. It's heart warming to see Stars and Creators coming together for the welfare of the working force of the film industry, while providing us great entertainment. More than 11,000 families benefited. #NavarasaOnNetflix pic.twitter.com/Fg3FkaOZRp

— Actor Karthi (@Karthi_Offl) August 6, 2021