November 2019 Release Movies: Tamil, Hindi and English
Gokul Saravanan (Author)
Published Date :

Nov 11, 2019 12:56 IST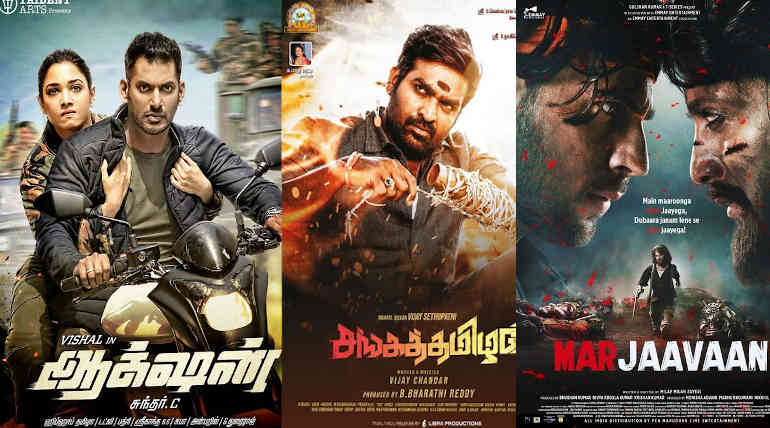 This November 15, 2019, Friday is going to be an action-filled theater across the nation with a few Hollywood blockbusters along with Indian movies. The most expected Marjaavan and Charlie's Angels are about to step into the silver screen this Friday.
Movies Releasing this November 15, 2019:
Along with the Marjaavan from Bollywood and Charlie's Angels from Hollywood, Jhalki, Deendayal, Motichoor Chaknachoor, from Hindi, and Sanga Thamizhan, Action and Adutha Saattai from the Tamil language are also stepping into the theaters. Here, it has been presented the summaries of most expected movies among the above mentioned.
Marjaavan: Marjaavan, directed by Milap Zaveri, can be translated into English as "I Will Die." This movie holds Sidharth Malhotra, Riteish Deshmukh, Tara Sutaria and Rakul Preet Singh in the lead roles. Bhushan Kumar, who was the co-producer of this movie, said that this movie would be a violent-dramatic love story in a previous interview, and it is about to release this November 2019.
Charlie's Angels: While the other Hindi and Tamil Movies are getting their spots for this Friday, Hollywood's all-time best Charlie's Angles has been remastered and made to compete with these Indian movies. Charlie's Angels (2019), starring Kristen Stewart, Naomi Scott, and Ella Balinska in the lead roles would be replicating the same classic concept of famous Charlie's Angles and never leave anyone without a nostalgia.
Action: Actor Vishal starring Action from the Tamil Language is set to be released on November 15, 2019. Directed by Sundar C under the production of Trident Arts, Vishal's Action movie is undoubtedly a Spy-action-thriller. Most of the shots were done in some European countries with many action sequences.
Adutha Saattai: Samuthirakani is back with another social storyline as a sequel to the movie "Sattai." This movie comes under the drama category holds Athulya Ravi and many significant characters that were presented in the previous part of this movie. This movie is about to release on November 15.
Sanga Thamizhan: Movie from Tamil holds Vijay Sethupathi, Nivetha Pethuraj, and Raashi Khanna in lead roles is releasing this Friday. The movie is one of the most anticipated films in recent times by the fans of VJS. Directed by Vijaychandar, Sanga Thamizhan came under the drama category and expected that it would increase the star value of VJS.
Deendayal Ek Yugpurush: A biography of a famous political personality Manoj Giri directs Deen Dayal Upadhyay, is also releasing this Friday.
Jhalki: Yet another social thought movie from Hindi, Jhalki, is directed by Brahmanand S. Singh. As per the source, Jhalki is a real-life incident of a young girl who set off in search of her younger brother. The movie will talk about human trafficking in the primary aspect.