Petromax and Aruvam to hit the screens on 11th October 2019
Vijayan Sankar (Author)
Published Date :

Oct 09, 2019 12:46 IST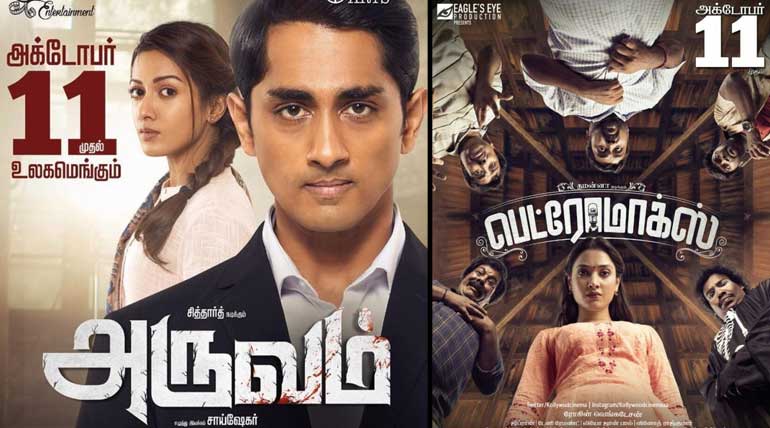 Petromax and Aruvam to hit the screens on 11th October: Get ready this Friday 11th October for two comedy horror films to view in the big screen. Tamannah's Petromax and Siddharth's Aruvam are the two said movies to entertain the pre-Diwali audiences. Both these two low budget quality movies will sure give worth the ticket's money for the audience. With only just two more weeks for Diwali and big releases like Bigil and Kaithi, and after the Tamil cinema's classics Otha Serupu and Asuran will surely be welcomed by the audiences.
Will Petromax bring the magic of Petromax lighte than venuma: From 1984 if there is one evergreen joke shared by Tamil people worldwide, is Petromax lighte than venuma. It is a phrase to criticize anyone who is proud and needs more than wanted things. It was in the movie Vijaykanth-Revathis's hit movie Vaidehi Kathirunthal.
Also, the smashing of the mantle of the petromax light by Senthil and the irritated Goundamani chasing him is still telecasted at least once in some channels daily. But will this new Petromax movie bring in the same comedy is a question to be answered on 11th October.
Milky beauty Tamanna in the main character of Petromax: After Bagubali and Sye Raa, Tammannah was expecting a huge break in her career. After a successful acting career for more than a decade in multi-lingual films, it was the right expectation. But there were not many chances, and this Petromax movie with no big hero in the star cast will be mostly depending on her.
The male actors are Yogi Babu and Munis Kanth, who will be mainly for the comedy part. With the success of Devi movie, Tamannah will be the right choice for this comedy horror film. Being a remake of the successful 2017 Telugu movie Ananda Brahmo, this movie is directed by Rohan Venkatesan and produced by A Kumar, and it is a Ghibran musical.
Aruvam stars Siddharth and Catherine Teresa: The other Social horror film to hit the screens on Friday 11th is Aruvam. With talented actor Siddharth in the leading role, it also has gorgeous Catherine Terasa in the female lead role. Siddharth plays the role of a food safety officer, and the movie is about the ill effects of food contamination.
Forty minutes of the film feature computer graphics, which could give a clear social message along with action and horror. Directed by Sai Sekhar and produced by Trident arts, the music for Aruvam is composed by S.Thaman.
Petromax and Aruvam releasing on Friday 11th October will yield their producers' good profits, even if they run successfully in theaters until Diwali. They will surely be a change with comedy, horror, and social message for the Tamil audience this weekend.