ads
Queen Trailer, Ramya Krishnan As Jayalalithaa, Releasing on December 5, 2019
Anusha Sathish (Author)
Published Date :

Dec 03, 2019 17:05 IST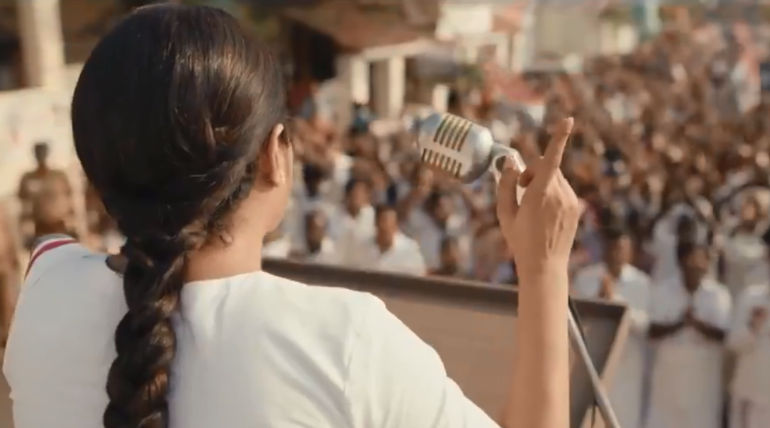 Jayalalithaa again surfaces on-screen through web series starring Ramya Krishnan: Selvi. J. Jayalalithaa (late), the invincible politician of the AIADMK party, was exemplified for her courage, determination, and assertiveness. Equal to movies, today's crowd gives importance to web series too. The teaser of Gautham Menon's web series based on the life of late TamilNadu Chief Minister J. Jayalalithaa is out on Sunday, and the trailer is releasing on December 5, 2019.
The web series is titled 'Queen.' And, Ramya Krishnan plays the lead role. The web series is co-directed by Kidari-fame Prasath Murugesan. The teaser camouflaged the characters' faces but began with a schoolgirl standing in a podium. Great applause was conferred to her by fellow classmates for her skilled performance. It flicks to a young girl dancing on the stage captioned "Superstar heroine at 18."
Finally, the teaser ended with a young woman draped in tri-color bordered ADMK saree was shown. She was delivering public speeches. The first season is planned with 11 episodes, and all is set to premiere on the MX player. It was planned previously to cover the entire story in 30 episodes. Web series does come with some lacunae.
The production values might be below par, and these are the major criticisms the web series invite from the viewers. But Gautham Menon strictly explained to his producers that quality could never be compromised. It is also said that Gautham has gotten some nitty-gritty of Jayalalitha's life stories through one of her confidantes. But officially, the information is not confirmed yet.
Based on the reception of the first 11 episodes, the second season will be planned according to the director. Meanwhile, news has already surfaced that Director Vijay is making a biopic of Jayalalitha titled Thalaivi starring Kangana Ranaut in the lead role. It is said Kangana is putting her sweat out to gain weight and working hard for the movie.
Priyadharshini is also working on a feature film based on the life story of Tamil Nadu politician in which Nithya Menon plays the lead role titled "The Iron Lady." The life history of late Jayalalitha is screened in various forms, and the Queen would be streamed in Tamil, Telugu, and Hindi. Many unknown and enticing script is expected, and Gautham Menon will never put the spectators down.
மாநில அளவில் முதலிடம் பெற்ற மாணவி, சினிமாவின் சூப்பர் ஸ்டார் கதாநாயகி, இளம் முதலமைச்சர். ஒரு மகாராணியின் கதையின் பரபரப்பான பக்கங்கள் உங்களுக்காகவே! #QueenIsComing@meramyakrishnan @menongautham @Murugesanprasad#Queen #MXOriginalSeries #MXPlayer #Ace2Three #FanFight pic.twitter.com/digaPUNhTA

— MX Player (@MXPlayer) December 1, 2019