Siddharth Aruvam Movie Release Confirmed with Latest Trailer
Sivaranjani Soundararaj (Author)
Published Date :

Oct 03, 2019 11:27 IST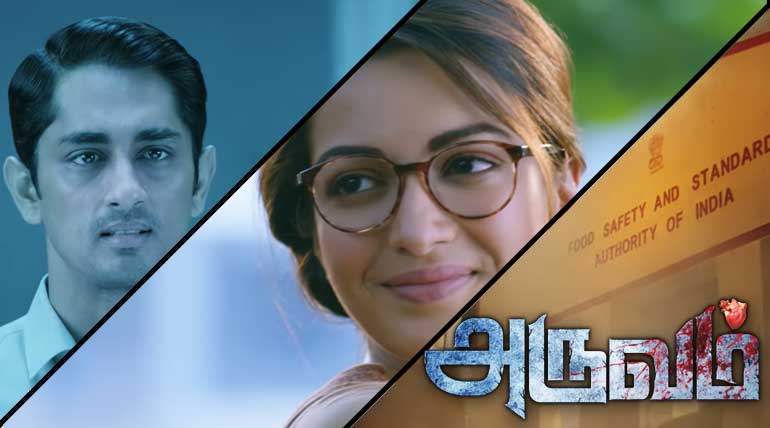 Siddharth Aruvam Movie Release Confirmed with Latest Trailer: After the massive success of Sivappu Manjal Pachchai, Siddharth upcoming movie Aruvam release date is on October 11th 2019. Siddharth's movie scripts are always unique in its way and hope Aruvam is also in his choice of pick to the audience.
The production team Trident Arts in association with Kleem Entertainment releases Aruvam Trailer yesterday night; The film has a strong social message. The movie revolves around the social misbehaving related to Food Contamination and its adverse effects on people.
Siddharth portrays the role of an officer of the Food adulteration; Catherine Tresa character reveals as a girl who cannot smell foods in the trailer. The film also has a commercial essence of romance between Siddharth and Catherine.
Aruvam is a Tamil Language commercial Horror film starring Siddharth, Catherine Tresa in the lead roles with Comedian Sathish. Horror movie Aruvam is directed by debut director Sai Shekar and music is composed by S.Thaman. Siddharth being picky in choosing films; His choice of selection never failed in Aruvam trailer too.
Aruvam story plot is intriguing; Food contamination is a huge sin. The director, as a commoner tries to register the problems around food contamination in a commercial way. The commercial horror movie trailer has the right mix of comedy, action, thriller, romance journals to entertain the audience.
"Cancer is not a disease in world; Cancer is a business" a dialogue portrayal by Siddharth Narayan creates goosebumps in every possible way to watch the movie.
Devil says something tagline of Aruvam movie is ready to raid the contaminants world from October 11 in theatres near you.