ads
Ungal Naan, a musical tribute to Kamal Hassan, Fixes Huge Prize for the Event
Arjun Krishnan (Author)
Published Date :

Nov 12, 2019 19:15 IST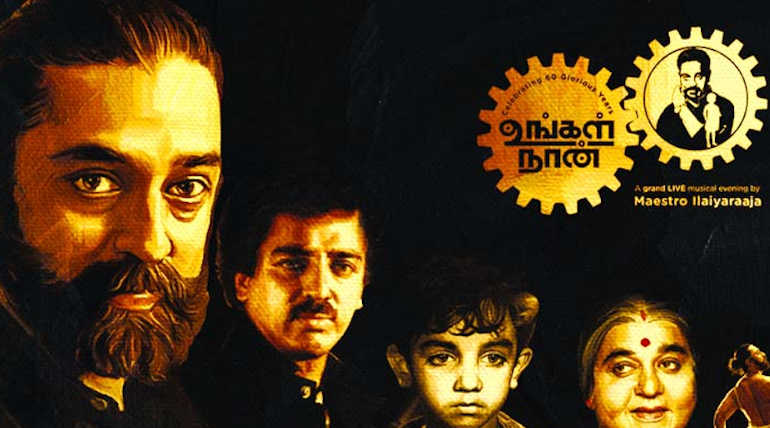 A Musical Tribute to the Iconic Kamal Haasan:
Ungal Naan is a Sparkling Musical Event that pays tribute to the legendary, multitalented, Actor, Padmabhusan award winner, "Ulaga Nayagan" Shri. Kamal Haasan for celebrating 60 years in the Film Industry. The title was given after the famous quote he made in a television program named "Big Boss Tamil."
Ungal Naan is a 120 minutes program featuring "Musical Maestro Ilayaraja," Kamal Haasan, S.P Balasubrahmanyam, and other Singers. A heartwarming evening with other actors, cinema celebrities, mesmerizing music for another 200 minutes to make the people more electric. This concert will portray the journey of Kamal in Indian Cinema.
On his birthday, Kamal Hassan organized a three days special event, which includes unveiling the statues of his Father, Freedom fighter D Srinivasan, and his mentor, director K Balachandar held during the 7th and 8th of this month. In addition to that, they made a special screening of the movie "Hey Ram" directed by Kamal Haasan in Sathyam Cinemas at 3.30 P.M on last Friday.
Following the celebrations that happened on November 7 and 8 of 2019, the Ungal Naan event about to take place on 17th November at Nehru Indoor Stadium (SDAT Multipurpose), Chennai, and has been officially confirmed by the 'Raj Kamal Film International' Twitter handle. The Tickets are on sale ranging from ₹999 to ₹50,000; the first column named as Platinum worth ₹50,000 followed by Diamond, Gold Silver, and Bronze which costs ₹14,999, ₹4,999, ₹2,499 and ₹999 respectively. The tickets are sold in Book my Show Mobile App and Website. The event is scheduled to start at 5 P.M with some amazing dance performances on this inaugural function. Vijay TV bought Television rights for this show.
The Kamal Hasaan Fan Page made a tweet on twitter that "the ticket rates were disappointing and the middle-class people can't afford it." They also requested the officials to reduce the price of tickets.