Chennai Based Engineer Helped Finding the Vikram Lander, says NASA
Vignesh Subbaian (Author)
Published Date :

Dec 03, 2019 09:58 IST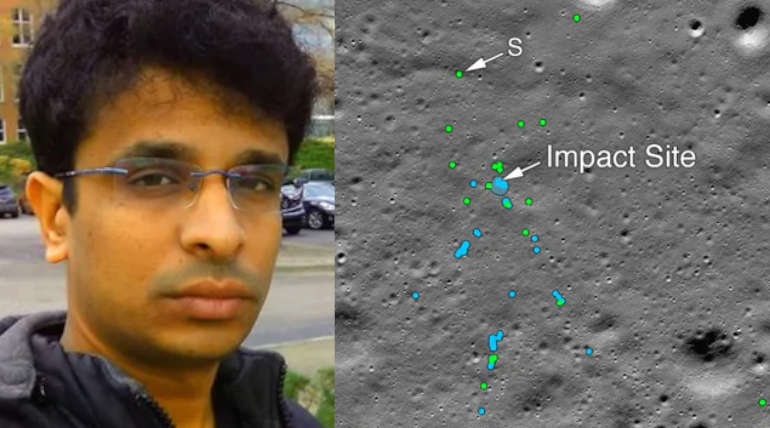 NASA's LRO finds the final resting place of Vikram Lander on the moon: After nearly three months of the hard landing of Vikram Lander on moon's South Pole, NASA's LRO finds its final resting place. The Lunar Reconnaissance Orbiter discovered its debris scattered across several kilometers and in nearly two dozen locations.
On December 3, 2019, NASA released a statement of finding Vikram Lander debris on the moon. An analysis of the images taken by its LRO on September 17 has made this possible. On September 27, NASA released the mosaic image of the September 17, 2019, picture for people to download the images and find the debris. Since it was not properly illuminated, NASA released subsequent mosaic images on October 14 & 15 and also on November 11. Shanmuga Subramanian, a Chennai based engineer, has identified the debris from the latest picture with a pixel scale of 0.7 meters and lighting of 72-degree incidence angle. NASA does not much reveal his identity in the statement.
ISRO Presented the Roadmap for Chandrayaan 3 to the Space Commission
The finding of Shanmuga Subramanian sparked a series of analyses by NASA scientists. LROC or Lunar Reconnaissance Orbiter Camera team cleaned and brightened the area identified by Subramaniam. They found the impact site and the scattered debris. The first piece of it was found 750 m north-west of the main crash site.
Chandrayaan 2 almost successful in placing the Vikram Lander for the first time on the moon's south pole on September 7 in India and September 6 in the US. But it was failed at the last minute with only 2.1 kilometers for the soft land. Now with its hard landing details by NASA, the proposed Chandrayan 3 may find ways and means for successful landing in 2020.
Shanmuga Subramaniyam, in a talk with a news agency, said the failure of NASA's work in finding the lander had sparked his interest to find the lander at any cost.