Kanchipuram Athi Varadar Last day August 17th will be closed for Devotees
Vijayan Sankar (Author)
Published Date :

Aug 08, 2019 18:41 IST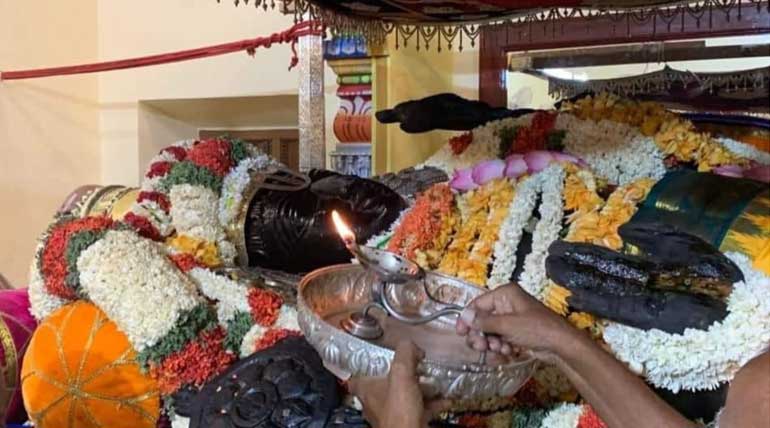 Last day August 17th Darsan will be Closed
Kanchipuram Collector Ponnaih held a press conference now for elaborating the arrangements for the next eight days of Lord Athivaradar darshan until 16th night. Chief Minister Palanisamy visited Kanchipuram yesterday to worship the Lord and make an assessment of what to be done for the next nine days of darshan. Accordingly, many facilities were added as per the Collector's speech in the press meet. There will be no darshan on 17th for anyone, as the Lord is immersed in the amirthasaras water as after performing all the necessary spiritual rituals. Devotees from all over the world are eager to worship the Lord in the next eight days as it will take another 40 years to have a darshan of the Lord again.
The facts Collector told about Lord Athivaradar darshan:
More than 70 lakhs of people have had darshan so far in the last 38 days after the Lord came out of the water on 1st July
More than five crores are the hundi collection so far
The number of devotees increases from 1 + lakh in July to 2+ lakh on the first five days of August and 3+ in the last three days.
It is set to cross 4 + lakhs in the last eight days
50 lakh people worshipped Lord in the sleeping position and 20 lakhs in the standing position
The additional arrangements for darshan in the last eight days:
To the already existing 1200 cleaning staff, another 500 to be added from tomorrow
25 food additional food stalls will be functioning from tomorrow
Police personnel are going to be increased as per the crowd
Additional buses to ply more from around Kanchipuram to the nearest place of the temple
Schools in Kanchipuram are declared holiday on 13,14, and 16
No special darshan on 16th July no one can have darshan on 17th July
The 18 hours of darshan till 2 PM will be extended till the devotees inside the temple have darshan
Devotees can stay in the parking lots
Lord Athivaradar darshan to end by 16th July. All necessary arrangements are made by the district administration to handle the huge amount of devotees in the last eight days.