Lord Athi Varadar has come out of water after 40 years at Kanchipuram to bless people
Vijayan Sankar (Author)
Published Date :

Jul 07, 2019 19:24 IST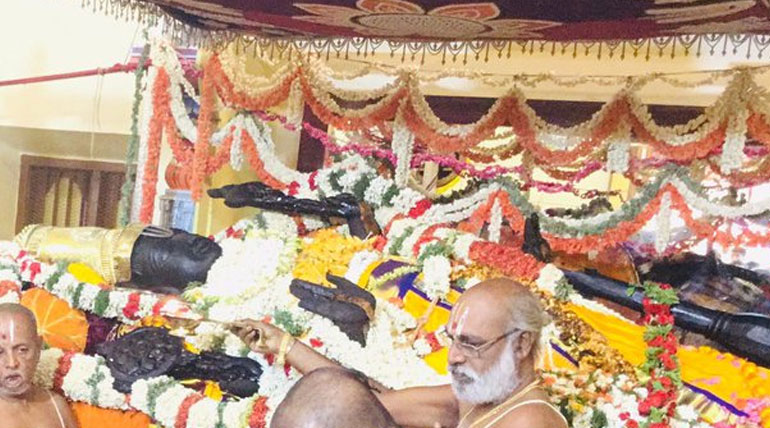 Lord Athi Varadar has come out of the water after 40 years at Kanchipuram to bless people
Lord Athivaradar can be worshipped at Kanchipuram Varadaraja Perumal temple till August 15, 2019. After that, you have to wait until the next 40 years to have darshan and to worship him. It is because the nine-foot-long idol made of the divine fig tree will be immersed back after 45 days.
The Varadaraja temple pond which never dries is the place from which the idol was taken and placed for worship on July 1, 2019. It was previously kept for worship in 1979 and way back in 1939.
Also, if one has to get the blessings of this Vaishnava God created by Lord Vishnu, they have to wait till 2059. And if someone young devotee can even worship this magnificent God again in 2099.
History of Athi Varadar:
As per Vaishavite records, due to some differences with her husband Brahma, Saraswathi wants to spoil his Aswamedha yagna conducted by Brahma in the fig forest, now Kanchipuram.
She takes an avatar of Vegavathi river to watershed the yagna. But Lord Vishnu emerges as Athivaradhar from the yagna fire. Due to this, Saraswathi is pacified and the yagna is completed.
Viswakarma carves Athivaradar idol as Lord Vishnu came out from the yagna fire from a fig tree of the Moraceae family. Viswakarma continues to stay at Kanchipuram at the top of the Elephant Hill.
Also read: Athi Varadhar the divine energy once in 40 years
Why is Athi Varadar is immersed in the pond and gives darshan only after 40 years?
There are various unconfirmed sources of information about the fig idol of Athi Varadar. Some say it was damaged and as per Hindu rituals damaged idol cannot be worshipped. So it was immersed in water.
Another theory is that it was immersed to safeguard from perpetrators. Some say it is as per the rituals and others say it was to safeguard against various invasions. But being immersed in the holy water of Varadaraja Perumal temple, it has enough power to be worshipped by all. That is the reasons thousands of people are on their way to worship Athi Varadar.
Some persons who are aged above 90 years are blessed enough for a third darshan this year.
Darshan timings of Athi Varadar:
For those who want to get the blessings of Athi Varadar the following timings, they can worship only till August 15, 2019.
Daily 5 a.m. – 5 p.m.
On special days and holidays, Athi Varadar can be worshipped until 8 p.m.
Lord Athi Vardar can be worshipped free or by a special entry costing Rs. 50/- or through online booking of Rs. 500 for special darshan. To book the special darshan visit the site www.tnhrce.org