ads
Kamal Hassan Statement: Only will Die by Trying to Live like Gandhi
Vijayan Sankar (Author)
Published Date :

May 17, 2019 11:19 IST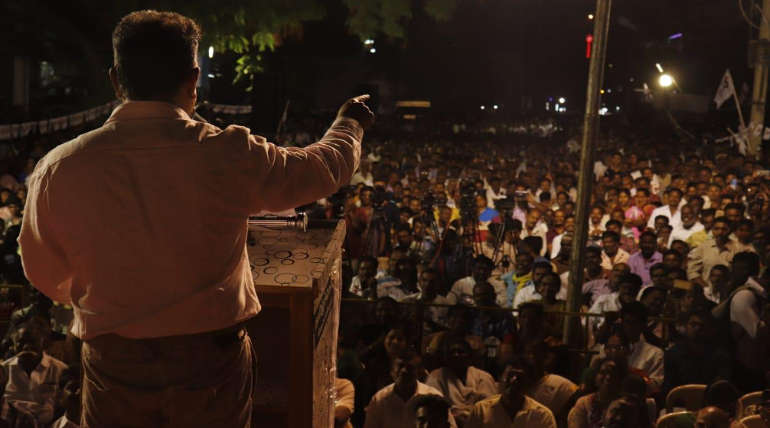 Kamal Haasan Godse Comment
Kamal Hassan Statement: love of Gandhi is known to everyone for decades. Attenborough's Gandhi film won 8 Oscars out of the 11 nominations in 1982. But Kamal's movie Hey Ram would have been a big flop, but it established his vision of Gandhi. Over the years in various interviews and in his movies, he has shown his love of Gandhi and his life and policies. He mentioned in an election campaign that Gandhiji's assassin Nathuram Godse as a first Hindu terrorist. The speech created a stir in Indian politics.
Albert Einstein and Gandhi
The renowned scientist Albert Einstein has once said on record that if someone heard Gandhi's story and philosophy after 50 years, they would not believe it. Such is the life of Mahatma that everyone should follow or try to follow parts of it. It is what Kamal Hassan Statement meant by saying he wants to die trying to live like Gandhi.
Why did Kamal say this now?
When Hinduism and nationalism were portrayed as the deciding factor for Indians, it was
Kamal who said that the first extremist of India is a Hindu
. He has again reiterated that it is a historically correct fact. He said this to silence his critics. Now he has even applied for anticipatory bail to evade arrest for his speech.
How will his speech viewed by Indian people?
As usual, the hardcore Hindus will be criticizing him for his comment. But even ordinary people see Kamal Hassan as only an excellent actor and not as a politician or a good human being. It is because of the glitz and glamour of cinema and its negativities.
Also, his personal life adds fuel to the fire. Now many will criticize his speech. But the truth remains that everyone should try to live like Mahatma and there is more good than bad of it.
Kamal Hassan Statement: Only will Die by Trying to Live like Gandhi