ads
Minister Jayakumar DMK Requesting 5 Cabinet Berths from BJP
Vijayan Sankar (Author)
Published Date :

May 14, 2019 12:39 IST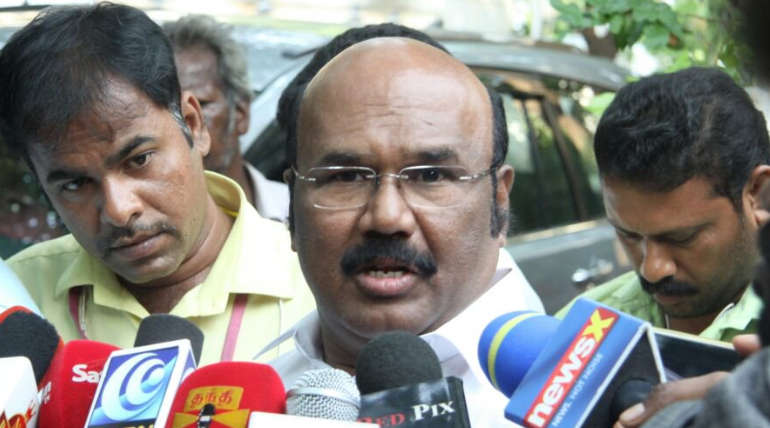 Minister Jayakumar DMK requesting 5 cabinet berths from BJP
Tamil Nadu Fisheries minister D.Jayakumar is famous for his controversial remarks. Yesterday he made a scathing attack on the principal opposition party DMK. The chief minister of Telangana K
Chandrasekar Rao met DMK chief Stalin
. Irritated by this meeting of KCR with Stalin, D. Jayakumar made a new accusation against the DMK. He has said that DMK is seeking 5 cabinet berths from the BJP party.
DMK with BJP and Congress
DMK was part of the Vajpayee led BJP Government in the past. They were also part of both the UPA1 and UPA2. It could be one of the reasons that D.Jayakumar is making this kind of accusation. That is why he says that DMK always tries to sail in two boats at the same time. He has also said that they criticized Congress severely and then said "Welcome Nehru's daughter" to Indira Gandhi. As his party's ally BJP, D. Jayakumar also goes back to history than concentrating on current issues.
DMK and Congress Alliance 2019
DMK chief Stalin was the first politician in India to announce 8 months back that Rahul Gandhi is the Prime Minister nominee. It was from there that the Congress gained momentum in the race against BJP. They went on to win three states and form the Government. Hence it is crystal clear that DMK is with Congress this time to fight Modi. It is because of the underlying ideology which Modi represents is against DMK's policies. In the case of Vajpayee, the then DMK chief Karunanidhi has said that he is the lotus of the mud. The approach and functioning of Modi are different from that of Vajpayee.
Hence the alliance of DMK and Congress is more of an ideological than political. Therefore the remarks and accusation of D.Jayakumar seems to be baseless and out of frustration to divert the voters of the by-polls on May 19th in 4 constituencies.
Minister Jayakumar DMK Requesting 5 Cabinet Berths from BJP