Minister Pandiarajan praised by a girl who studied with his scholarship 1999
Vijayan Sankar (Author)
Published Date :

Sep 04, 2019 16:11 IST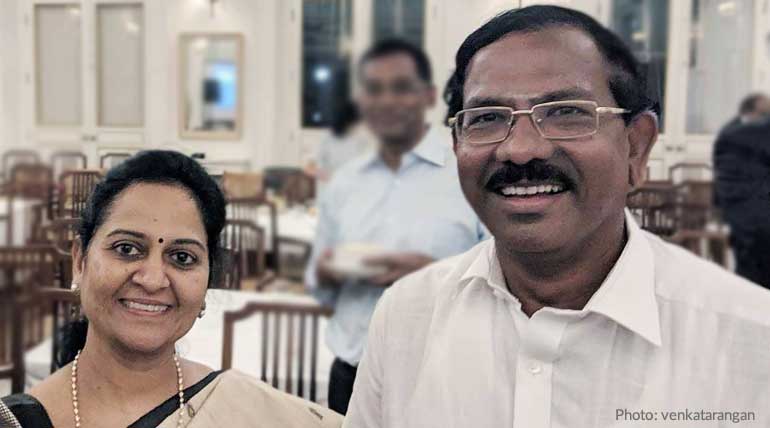 Minister Pandiarajan praised by a girl who studied with his scholarship in Virudhunagar: An innocent Virudhunagar girl's speech who studied with the help of Minister Pandiarajan scholarship moves anyone hearing it. Her praise for Ma Foi Pandiarajan is genuine and from the heart. Without any intimation from anyone she suddenly spoke about him during her random selection by Radio City 91.1 FM for speaking on native achievers.
She was all praise for him with so much care and affection. It is the honor for the hard-working achiever Pandiarajan from Vellampatti village in Virudhunagar to scale great global heights.
What does the girl say about Minister Ma Foi Pandiarajan in the random interview? The girl wholeheartedly thanks Ma Foi Pandiarajan for his scholarship, which enabled her to get 460 marks in 10th standard. She also says that he is the pride of Virudhunagar district. Not only her but all students from her place got a scholarship from Pandiarajan is her praise for him. Her innocence and genuineness can be found from the fact that she says Delhi as a far of destination and Rs.500 a fortune.
Maybe when she got 460 marks in 10th standard it was that big to her, living in the dry district Virudhunagar. But for Pandiarajan it was not easy to go from a small village there to global heights. His life is an inspiration for anyone who hail from tough and rough situations to achieve their big ambitions in life.
Pandiarajan's family: Pandiarajan is blessed with the life partner who he met as a young HR staff of BOC during the late 80's. On his regular official trips to Nagpur, he found his lady luck Latha whose father worked in BOC also. They fell in love and got married even though they are from different religions. That was the turning point in Ma Foi Pandiarajan's life, and it shot up to global heights.
Their married life, coupled with business reached new peaks and also helped more than 4 lakh people find a livelihood in 36 countries around the world. Still, the couple runs CIEL HR Services to provide HR solutions. They also run CIEL IT Solutions leveraging technology and analytical skills for IT recruitment in Bengaluru.
Pandiarjans are blessed with one young boy in twenty's and a girl in her thirty's. But the couple still sings songs together and enjoys the life like they had it in Nagpur.
அமைச்சர் @mafoikprajan அவர்களை பற்றி 1999 ஆண்டு கல்வி ஊக்கத்தொகை வாங்கி படித்த பெண் பெருமையாக கூறும் ரேடியோ சிட்டி எப் .எம் உரையாடல். @planetradiocity pic.twitter.com/0fUT62zWVu

— Mahilambadi Vasanthabala (@vasanthabala22) September 3, 2019