Tamilnadu CM Edappadi Palanisamy Speech in Sulur
Prakash Jayaram (Author)
Published Date :

May 15, 2019 12:25 IST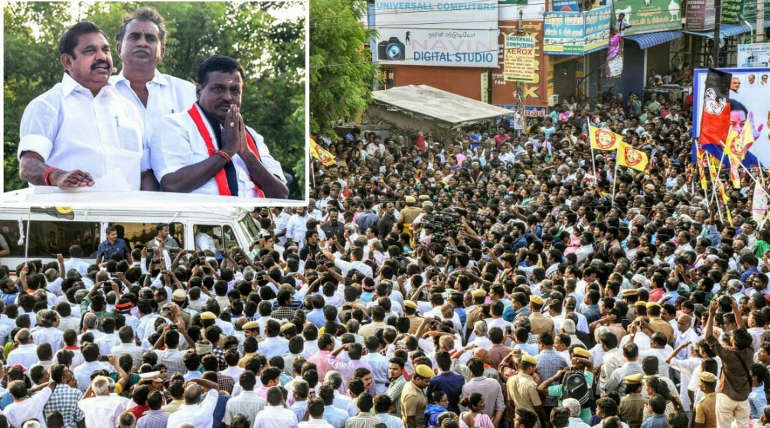 Loans including interests and penalties will be cancelled
"65 crores of textile and power loom sector loans will be cancelled", proclaimed Edappadi K. Palanisamy on his campaign rally in Chinniyampalayam. He assured the power loom labour that all the loans they got through the fund for housing for textile labour scheme sanctioned before March 31 st of 2017 will be cancelled along with interests and penalties if the ADMK party stays in power. His promise comes in a place where the population is predominantly textile and power loom based workers. He also promised jobs for the youth of the area with a new military components manufacturing facility in Sulur.
It is disgraceful coming from a leader
"It is disgraceful coming from a leader saying I got tan by campaigning hard in this heat", the chief minister said mocking Stalin's remark. Stalin during his campaign said that he was a handsome guy who got tanned and dark after campaigning hard in this heat. Palanisamy commented that even great looking people like MGR and Jayalalitha didn't talk about their beauty in public and questioned Stalin why talk about his beauty where he should be talking about people's welfare. "Is this kind of talk necessary at his age of 70", questioned Palanisamy.
Teach a lesson to traitor TTV Dinakaran
Next, on the list of Tamilnadu CM Edappadi Palanisamy Speech in Sulur was TTV Dinakaran to whom he referred to as a traitor of ADMK and that he tried to break a historic party. He urged the people to teach him a lesson by defeating him in this election.
Stalin's double act
He accused
Stalin
of being devilishly opportunistic by doing a double act. He questioned why would he campaign supporting Rahul Gandhi for Prime Minister and then meet with Chandra Sekara Rao to form the third alliance.