ads
Priyanka Gets Greetings From BJP Workers in Indore
Vijayan Sankar (Author)
Published Date :

May 14, 2019 15:22 IST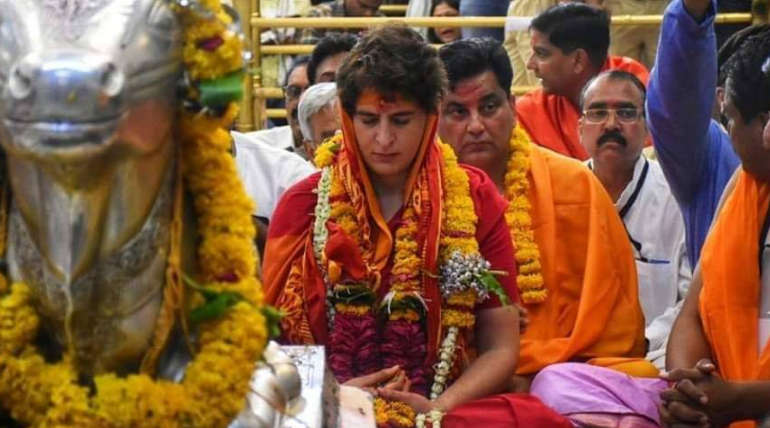 Priyanka's gesture gets her greetings from BJP workers in Indore
Priyanka Gandhi has brought in the much needed fresh air into the grand old party. Her youth and look-alike of her grandmother Indira Gandhi has revived the party's hopes in the 2019 general elections. Inducting her as the general secretary in charge of east UP is one the wisest decision Rahul Gandhi took this election season. Yesterday on her tour of Indore she even won the hearts of BJP workers who were chanting
Modi
to greet her.
Indore the stronghold of BJP since 1989:
Even though Priyanka Gandhi was only in charge of the Congress affairs in east Uttar Pradesh she started to tour other states also. It is the second best decision for Priyanka to not only confine her charisma for eastern UP alone. Suddenly last month it was decided to tour Priyanka in other states also. During one such tour of the BJP stronghold in Indore, Madhya Pradesh she made even the Modi chanting BJP workers to greet her. Accompanied by the Chief Minister Kamalnath and Chattisgarh chief minister Bhupesh Bhagel, she was touring Indore to wrest it from
BJP
after 30 years.
6 KM road show of Priyanka in Indore:
During her road show, Priyanka stopped her car near a group of BJP workers who were chanting "Modi", "Modi". With a smiling and charismatic face, she said to them you are good at your place, and I am good at my place. It made the BJP workers moved, and they started greeting her. When BJP is practising hatred, this loving gesture of Priyanka even to the rivals moved many there.
But that did not stop Priyanka from taking potshots of Mr.Modi. She ridiculed him with full of arrogance. She said even years of practising Tapasya had not reduced the arrogance of Modi. But all this will change into votes in favour of Congress is yet to be seen on 23rd May.
Priyanka Gets Greetings From BJP Workers in Indore