ads
Stalin Challenges Modi and Tamilisai about Talks with BJP
Vijayan Sankar (Author)
Published Date :

May 15, 2019 11:15 IST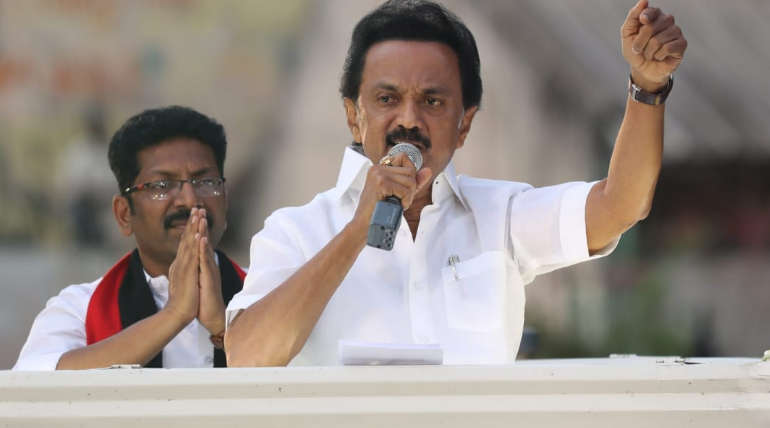 Stalin challenges Modi and Tamilisai about talks with BJP
Yesterday Tamil Nadu State President Tamilisai during a press conference stated that DMK is having negotiations with BJP. Insulted by this comment,
DMK President
vociferously challenged Prime Minister Modi and Tamilisai to prove the charge. He said if proved he will quit politics. He challenged them both that if they are not able to do so will they leave politics.
Why should suddenly Tamilisai allege of DMK's talks with BJP?
Being in a responsible position of the BJP State President, it is not without reason that Tamilisai openly during a press conference alleged of DMK talks with BJP. It could be because of the meeting of KCR with Stalin on Monday. Even at that time speculations
were rife that the meeting of KCR was with ulterior motives. Also, BJP wants to demoralize the opposition unity against Modi. Hence BJP is attempting such acts to weaken the opposition unity and come back to power by roping in as many aspirants after the results.
Why was Stalin so angry about the allegation?
Stalin went to the level of saying he would quit politics if the charge is proved. And he also demanded the same from Modi and Tamilisai if charges are not proved. It was Stalin who first announced Rahul as the Prime Ministerial nominee of the 2019 polls.
The ideology and other factors which Modi follows is against DMK's policies. He also sent Durai Murugan, a close confidant to meet Chandrababu Naidu to apprise him of the meeting with KCR. If there are any chances of KCR's attempts to lure Stalin it was turned negative which was confirmed by his answer to a question by the press. BJP is all out to come back to power and stooping to any level of false allegations and accusations. But it is time that could confirm if their attempts will be fruitful or not.
Stalin Challenges Modi and Tamilisai about Talks with BJP