Stalin to be President and Durai Murugan is the Chief Minister
Thangaraja Palaniappan (Author)
Published Date :

May 07, 2019 12:38 IST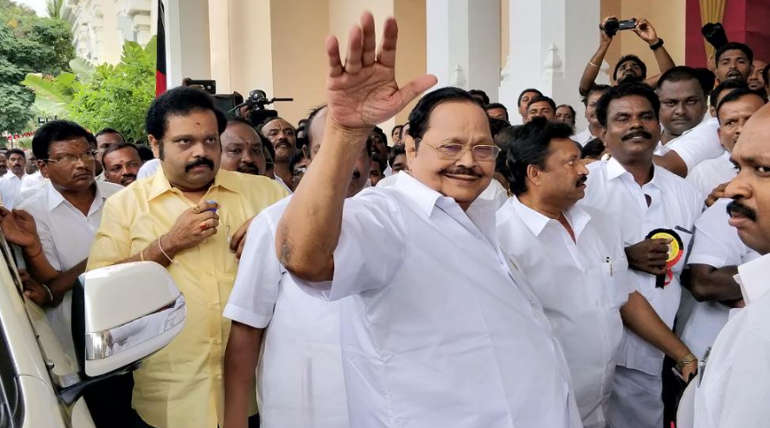 Chennai: H Raja, one of the national secretaries of the BJP and member of the legislative assembly of Karikudi constituency dismissed the idea of ​​Duraimurugan who spoke about being Stalin as the future president. He said that no politician equivalent to Stalin in Tamilnadu. He is India's presidential candidate in 25 years. No one has the power to attract people like him.
Duramurugan, Treasurer of Dravida Munnetra Kazhagam spoke at party executives meeting in Spic Nagar, Thootukudi Lok Sabha constituency that Stalin will become the country's president within 25 years. His speech becomes a trend in social media. Social networks and governing party executives are keenly commenting on the Duraimurugan speech. Speaking to reporters yesterday, Rajendra Balaji commented on that Stalin was in talks with the Speaker to be President of India.
In this situation, the BJP national secretary H Raja tweeted about Duraimurugan opinion. He said that friend Duraimurugan had a sense of humour. But do not you know that this is too much that Stalin who is of 70 now will become president 25 years later? H Raja asked. Durai Murugan further said in that meeting "The DMK volunteers should promise the mother to work on the field as DMK leader Stalin should not be put in hawking. Only then will you work better. Forget the party's conflicts until the election. After the election, I will come and create group politics. " As he said like that in social media commenting by asking, "Are Stalin to be President and Duraimurugan is the Chief Minister?"