China President Xi Jinping and PM Modi held informal meetings in Mamallapuram
Vijayan Sankar (Author)
Published Date :

Oct 12, 2019 10:25 IST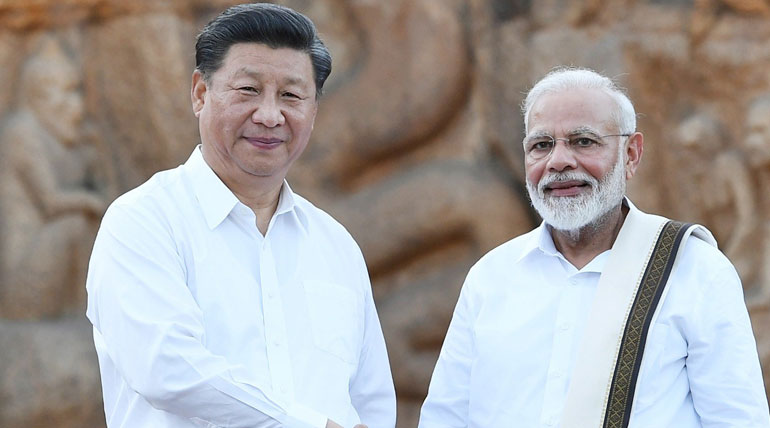 China President Xi Jinping and PM Modi held informal meetings in Mamallapuram on October 11th 2019: Xi Jinping, the Chinese president, arrived yesterday, October 11th, 2019 in Chennai for his second informal meeting with Prime Minister Modi in Mamallapuram. Radicalization and terrorism are a common challenge is the contention of the Indian government in the Friday night PRESS briefing. Earlier PM Modi took Xi for a walk along the 7th-century temples of Mamallapuram.
Xi Jinping kick starts the second informal meeting with PM Modi in Mamallapuram: Chinese president Xi Jinping's informal meeting with PM Modi yesterday was the second one between them. The first one was held in Chinese Wuhan in April 2018.
They discussed trade and terrorism in this second meet, apart from sightseeing Mamallapuram. PM Modi played guest and guide to Xi to show him three historical places in Mamallapuram.
They were the famous Arjunas Penance, Pancha Rathas, and the shore temple. Earlier for dinner, Xi had the famous Thakkali Rasam, Keera Vadai, Kadalai Kuruma, Panneer ghee roast, Pusanikai mor curry, Vendakkai poriyal as the vegetarian menu. For non-vegetarian he had lobsters, mutton, and chicken.
Chinese President Xi Ping's purpose of visit to Tamil Nadu??
Mamallapuram the gateway for business between India and China for centuries: The informal meeting between the two leaders of China and India was fixed at Mamallapuram for many reasons. Earlier last year, the Chinese president took PM to Wuhan, a Chinese heritage site in last year's first informal meeting.
Also, Mamallapuram has historical links with China's Fujian province for centuries. The Pallavas ruled the UNESCO heritage site of Mamallapuram in the 7th century, and many remnants of their rule still are the tourist attraction worldwide.
PM Modi dressed in traditional white Vaisthi and a half white shirt took Xi in a black pant and white shirt along the Bay of Bengal shores. PM Modi also presented gift articles of Nachiayar Kovil Amman lamp and a Thanjavur painting.
China and India standoff in Kashmir issue: Before arriving at Chennai yesterday, on Wednesday, Chinese president Xi Jinping had assured support to Pakistan on matters related to its core interests. China's state-owned Xinhua news agency quoted him as saying that the right and wrong of the Kashmir is clear.
He also said that India and Pakistan should resolve the situation only through peaceful dialogue. The Indian government has responded that Kashmir is an integral part of India, and China knew it.
Also, they said no other country could comment on the internal affairs of India. Prime Minister Imran Khan also met Xi Jinping two days before his arrival to Chennai.
There is also confirmation from reliable sources that there is no official MOU or any trade agreements to be signed by the Modi and Xi Jinping in this second informal meeting.
PM Modi and Chinese President will be in Mamallapuram for two days for this informal meeting to discuss trade and terrorism.