CM Edappadi Palaniswami: Transform Tamil Nadu infrastructure to the level of foreign countries
Vijayan Sankar (Author)
Published Date :

Sep 19, 2019 18:13 IST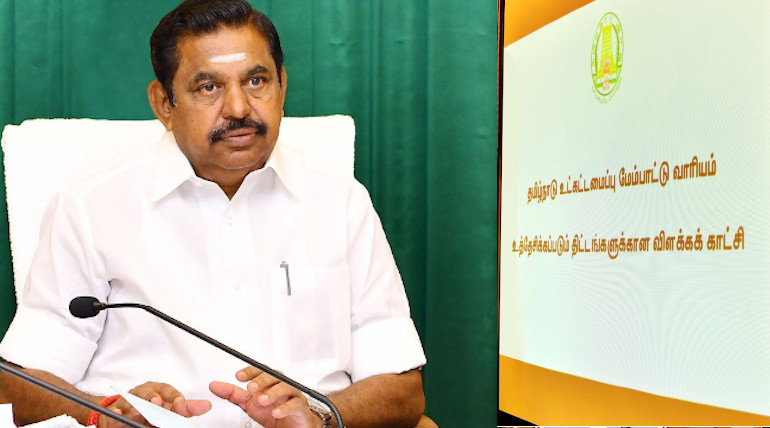 CM Edappadi Palaniswami chairs review meeting to transform Tamil Nadu infrastructure to the level of foreign countries: Chief Minister Edappadi Palaniswami chaired the review meeting of the Tamil Nadu Infrastructure Development Board yesterday on 18.9.2019. It was in the continuance of the CM's foreign trip efforts to bring FDI to Tamil Nadu. The meeting was held to discuss developing Tamil Nadu infrastructure to the level of the developed countries.
To draft project proposals to this effect, the Chief Minister has allocated funds to the tune of Rs.289.82 crores. Many infrastructure projects were identified to be developed to world standards during the meeting. It will also bring in more job opportunities with foreign direct investments. Many Tamil Nadu ministers and officials attended the meeting.
Chief Minister in the process of transforming Tamil Nadu to the level of developed countries: Recently Chief Minister Edappadi Palaniswami traveled abroad to many countries to bring in foreign direct investments. Also, many MOUs were signed with experts in many international cities like London, San Francisco, New York, and Dubai. All these were to transform Tamil Nadu to the level of those developed cities. In continuance of the effort, yesterday Chief Minister held the meeting with concerned officials and his cabinet colleagues including
Panneer Selvam – Deputy Chief Minister
S P Velumani, Minister for Municipal Administration & Rural Development
D.Jeyakumar, Minister for Fisheries
M C Sampath, Minister of Industrial Development
Dr.C.Vijaya Baskar, Minister for Health
N. Natarajan, Minister for Tourism
M.R.Vijaya Baskar, Minister for Transport
What are the infrastructural projects to receive the CM's allocation of funds to be transformed to a world-class level?
Tamil Nadu Integrated Tourism Development program

Tamil Nadu Integrated Vehicle Parking Management Program

To attract new investments for government lands in projects like Southern Structural

Modernizing Tamil Nadu Government Transport department workshops

Tamil Nadu light train transport system

Industrial development program

To set up an intellectual gallery with Virtual reality in science city

To set up an entertainment gallery with virtual reality in MGR Film City, in Taramani, Chennai

Setting up industrial route program from Chennai to Kanyakumari

Setting up industrial route program from Chennai to Bengaluru at Ponneri center

Nadanthai Vazhi Kaveri Program

To set up waste water recycling plant in the corporations of Coimbatore, Erode, Tirupur, Salem, and Tiruchy

Setting up of Integrated management program to recover waterways in Chennai

Program to recycle the wastewater of Chennai

Plant to refine seawater to be set up Mullakadu village in Toothukudi

A plant to transform seat water to drinking water to be set up in Kuthiraimozhi Village in Ramanathapuram district

A program to convert seawater to drinking water for the Thindivanam and Villupuram
The allocation of Rs. 289.82 crores by the Chief Minister is only to draft proposal of all the above-said programs. Once the proposals are ready and implemented, the Chief Minister's dream of changing Tamil Nadu infrastructure to the level of developed foreign countries will be fulfilled.