MK Stalin Asks Rajinikanth to Double-Check While Talking About Periyar
Anusha Sathish (Author)
Published Date :

Jan 21, 2020 18:46 IST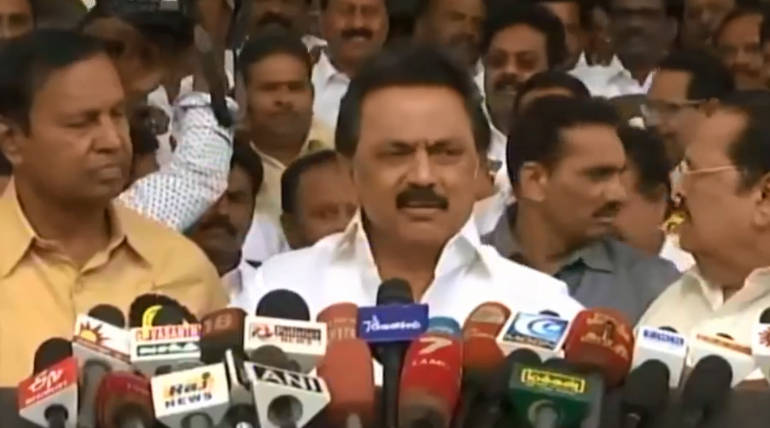 Stalin diplomatically commented on Rajini's stature on the political ground suggested playing low with comments on Periyar
It is a buzz everywhere about Rajinikanth's comments on Periyar contouring the 1971 rally conducted in Salem. It was said by the actor cum politician Rajinikanth that "Portraits of undressed Rama and Sita garlanded with slippers had been carried" for which the supporters of Periyar condemned his deliberation. The actor said, "I voiced out the statement which was penned down already, and I have the proof of the same."
In the meantime, DMK President Stalin was announcing the actions taken by DMK criticizing the ruling government. During his speech, he passed sarcastic comments about Rajinikanth stating, "Our comrade Rajinikanth is not a politician but an actor. Before speaking anything about a great leader like Periyar, he should think twice. He is the father of the Dravidian party. He served for 95 years for the upliftment of the state and country. Just like that, passing comments with reference is not advisable. Hence we request our friend to double-check before opining about leaders."
Also, Stalin was accusing the ruling party ADMK, telling that the government does not have guts to challenge the Modi government. All the atrocities happening now in the state overlooked by ADMK should be slapped before the public. People should be aware of the current government's flaws. Eela Tamizhar's issues are to be sorted out. The elections should happen smoothly everywhere, and all the negatives of the ruling party should be screened to the public prior to that.