Rajinikanth Miracle 2021: Subramanian Swamy and Other Politicians Latest Comments
Vignesh Subbaian (Author)
Published Date :

Nov 23, 2019 12:17 IST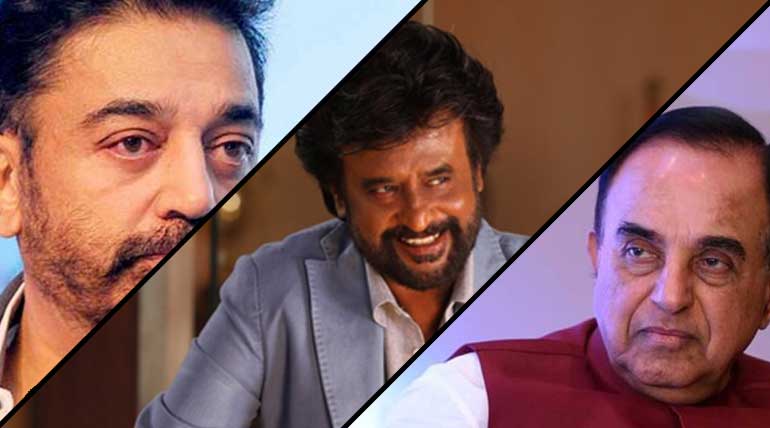 Politicians comments on Rajni's miracle happening in 2021: Rajinikanth and Kamal Haasan have become the eye of the Tamil Nadu political storm nowadays. After their opinion of joining together is causing a political tsunami, there are many to jump into the bandwagon to express their opinions about their political ventures including.
Subramanian Swamy: BJP's controversial leader Subramanian Swamy spoke to Press persons in the airport now. He said that acrobats like Rajinikanth and Kamal Haasan could do nothing for Tamil Nadu. He also said that they are talking for publicity for their movies to be released soon.
Naam Tamilar Katchi Seeman: Seeman said the hollow image of Rajinikanth would be shattered is the miracle of 2021. In his twitter handle, he tweeted today that Rajinikanth is doing news politics by people making whatever he says as news. It will be sure shattered and surely shattered was his contention against Rajinikanth.
KS Alagiri - Tamil Nadu Congress President: K S Alagiri said in Tirunelveli today that what Rajinikanth said about miracle could be the title of a new movie. He further noted that actors becoming successful politicians ended with MGR. He said he had his doubts about Kamal Haasan and Rajni coming to politics for helping people.
Fisheries Minister Jayakumar: Minister Jayakumar wished Kamal Haasan for a speedy recovery. He also commented on DMK treasurer Durai Murugan saying that it will be good if Rajinikanth and Kamal Haasan could join together.
Minister noted that DMK since losing their vote bank to 18 % is eyeing the 10 % vote share of Rajinikanth - Kamal Haasan and also another 5 % from some other actor (Vijay) to help them save face from the 58 % vote share of the AIADMK.
But after the death of former chief minister Karunanidhi, Kamal Haasan was not having a cordial relationship with the DMK. On his call for an all-party meeting in 2018 for farmers' concerns, DMK did not attend.
Also, Kamal Haasan did not participate in the function to unveil Karunanidhi's statue. Yesterday's Stalin visit to Kamal Haasan was on a cursory note to wish him well for his surgery is the statement of Makkal Needhi Maiam.