Salem to Karur passenger train service officially starts from today, October 15th, 2019
Vijayan Sankar (Author)
Published Date :

Oct 15, 2019 14:19 IST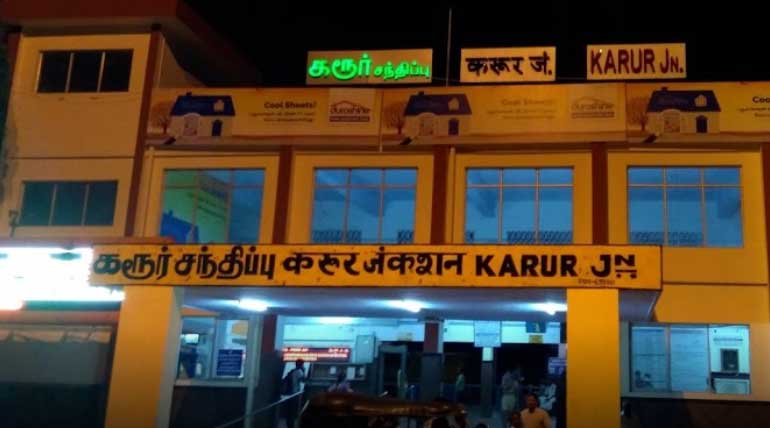 Salem to Karur regular passenger train starts from 15th October: Salem to Karur passenger train service officially starts from today, October 15th, 2019. Though for the past six months there was a special train, from today it is confirmed a regular passenger train.
The day to day increase commuters in the special train made Railways announce this as a permanent passenger train. Railway Minister Piyush Goyal, via video conference, started the train today from Karur at 11.45 AM.
NH 44 and the Salem-Karur passenger train: NH 44, starting from Kanyakumari, ends in Kashmir through all the length of India. It passes through Karur, Namakkal, Salem, Banglore, Hyderabad, Delhi to Kashmir.
There are several private buses apart from numerous government buses plying from Salem to Karur. But the charges from Karur to Salem are more than 50 rupees.
This new passenger train from Karur today starting at 11.40 AM will charge the commuters only Rs. 25 for reaching Salem at 1.25 AM.
Being economical and also without getting trapped in any traffic jams or other issues, this passenger train will be a boon to a lot of people in between Salem and Karur. Also, the return train from Salem to Karur will go to Trichy in the evening.
Salem- Karur-Trichy Passenger train timings & route: Passenger train from Salem-Karur-Trichy will have the following schedules and itineraries
Starts from Karur at 11.40 AM and reaches Salem at 1.20 PM via
Wangal Mohanur, Namakkal, Kisangani, Rasipuram, Mallur to Salem
Starts from Salem at 1.40 PM and reaches Karur via the same route at 3.25 PM
Then the train proceeds to Trichy.
This passenger train will not run on Sundays and will help a lot of office goers, business people, and college students in this route. The cost of Rs. 25 will help the commuters to save a minimum of Rs. 50 per day for the up and down travel from Salem to Karur. This passenger train is a big step towards the development of people in these areas in the future.