AMMK Party Members Now With Chief Minister Edappadi K Palaniswami
Vignesh Subbaian (Author)
Published Date :

Nov 14, 2019 23:17 IST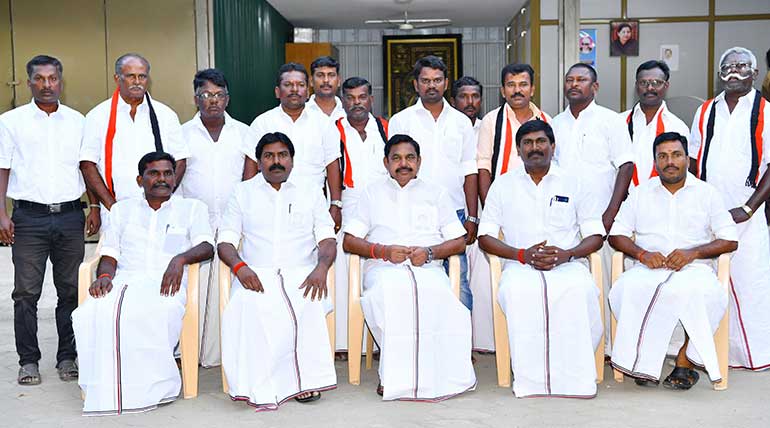 Chief Minister Edappadi K Palaniswami is buoyant now than ever before. After his humble attitude before former Chief Minister Jayalalitha, which was continuing for so long, is no more after the massive by-election wins in Nanguneri and Vikravandi. He is now more rejuvenated to take head on the opposition leader M.K. Stalin and even criticize Kamal Haasan and Rajnikanth.
Even his estranged party men who left AIADMK for TTV's AMMK are coming back en masse to the mother party. And today, the chief minister accepted a core of such old AIADMK party persons back into AIADMK to strengthen it for the local body polls in December and assembly elections in 2021.
AIADMK during MP elections: It was a sure big blow for AIADMK in the MP elections. It only won one MP seat and lost all the remaining 37 seats to their opponent party DMK and its allies. But no one noticed the shrewdness of CM to win 9 out of the 22 MLA by-elections to firmly cement his CM post for the next two years.
Opposition leaders, even after a big mandate by the people for him, were left clueless about the happenings. Though his party was able to send 37 MPs to Lok Sabha, it was of not any use as they remain only in the opposition benches. Next came the Vellore MP Election, and AIADMK candidate lost to DMK with less than 10,000 votes and garnering nearly 5 lakh votes. It was another plus for AIADMK and CM Edappadi k Palaniswami.
By-elections in Nanguneri and Vikravandi booster to AIADMK: The massive by-election victory was a booster to AIADMK and CM Edappadi K Palaniswami. The victory margin was so huge that even AIADMK party persons would not have anticipated it. There may be many opinions about the win, but a win is still a win and has become moral support for AIADMK. It is the reason many AMMK and other party persons are joining the AIADMK today in the presence of the CM including
18 office bearers of Ramanathapuram AMMK joined back in AIADMK
25 of AMMK party person from various posts joined AIADMK
Kaveripakkam city's AMMK treasurer, joint secretaries, came back to AIADMK
Trichy Engineering wing secretary along with hundred AMMK party persons from Trichy joined back to AIADMK
300 persons from various parties from Yercaud, Sengapalli, and Athur became AIADMK members
On 12th November Salem and Edapadi AMMK officer bearers joined AIADMK
11 AMMK party persons who were in MGR forum in Pudukottai joined AIADMK